Where do we test our products?
To determine mattress comfort, many review sites on the market test mattresses in clinical laboratories with state-of-the-art machines.
But who needs robots to tell us whether a mattress is comfortable or not?
We test all mattresses in the comfort of our own homes from a customer's perspective.
We believe that we can reflect the actual experiences of our readers.
By testing the mattresses in our homes with real people, we can see how the product is delivered and how the mattress performs under normal sleeping conditions.
When a mattress is tested in a lab, the machine can only evaluate if the mattress is comfortable only for a limited amount of time, usually just overnight.
On the other hand, our testers sleep on mattresses for a prolonged period while continuing their daily routine.
This means that we are also able to evaluate if the mattress cooperates while sleeping beside our partners at night or when sitting on the edge of the bed in the morning to put on our shoes.
It also allows our test sleepers to get used to the feel of the new mattress before making any critical decisions.
Usually, many new mattresses may feel unusual, stiff, or uncomfortable initially, as it takes the body a little while to get used to the new surface.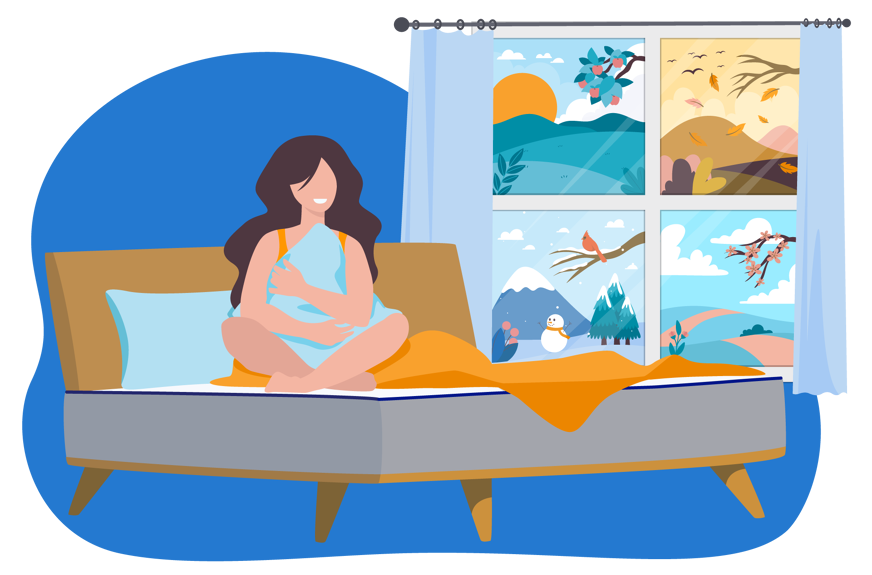 By testing the mattresses at home, our testers also have the opportunity to see how they adapt to different bedding and seasons.
And we don't need fancy equipment or machines to determine the comfort of the mattress.
Instead, we're well equipped with our methodology, expertise, and home testing methods that we observe over time.
Occasionally, however, we rely on some equipment for objective testing and more accurate measurements.
So what factors do we take into account?
How do we test mattress performance?
Even though we test the mattresses at our home and try to capture the consumer's perspective, we take the process very seriously.
We monitor the entire testing phase and leave no stone unturned.
As we mentioned on our About Us page, we take several factors into account.
These include:
Packaging and delivery
Sleeping experience
Durability and practicality
But the real essence comes in the sleep experience testing.
Unfortunately, when it comes to mattresses, there's no one size fits all.
It's impossible to find a single ideal mattress.
But there's a perfect mattress for you.
Your ideal mattress will depend on:

So, how do we test this?
Let's take a closer look at the individual factors we consider.
Comfort and firmness
Comfort is the key to finding the perfect mattress.
Let's put it this way:
The main function of an oven is to provide the perfect base to cook well, and the main function of a cupboard is storage.
But with a mattress, it's all about comfort and how well you sleep.
And, of course, the best thing to do is to lie down on the mattress and sleep to test the comfort.
We work with several testers who can tell us how comfortable they find the mattress, which reflects the concerns of the average customer.
Since comfort is very subjective, we rely on some external data to help us translate our version of comfort into something useful for our readers.
To do this, we look closely at the firmness level of the mattress and also consider a range of sink-in tests.
By analysing how deeply a person sinks into the surface of a mattress, we can satisfactorily determine how supportive a mattress will be and how comfortable you're likely to find it.
We rely on a series of sinking tests.
For our first test, we stand in the centre of the mattress and measure how deeply the surface sinks into the bed.
It goes something like this: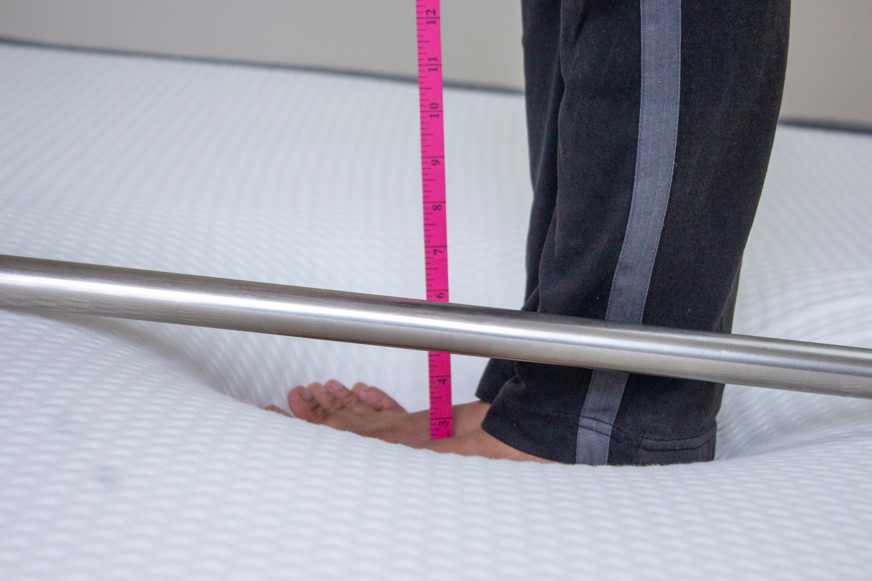 This lets us examine the mattress's support when your entire body weight is concentrated in a single region.
It is also a good indicator of the mattress's point elasticity and overall firmness.
We also measure the sinkage depths of the mattress in different sleeping positions:
When sleeping on the stomach, we measure it at the stomach.
When sleeping on the back or the side, we measure it at the hips and shoulders.
This way, we can better assess whether the mattress is suitable for a certain sleeping position and the amount of support you will get.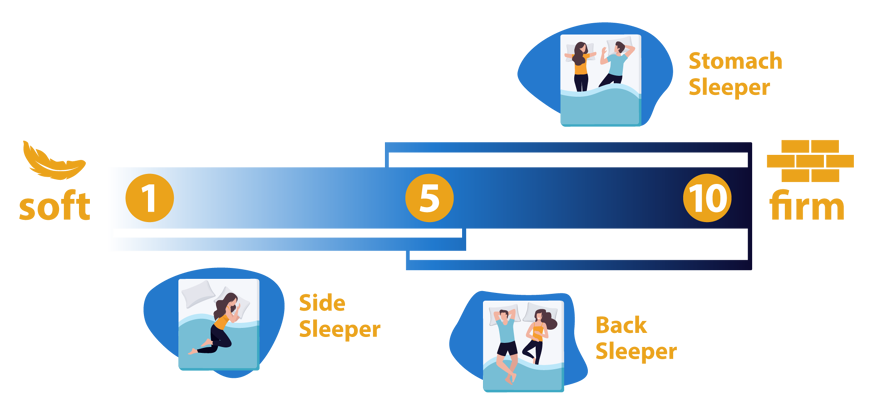 Lower sinkage depths indicate a firmer mattress, whereas high sinkage depths indicate a softer mattress.
Although the degree of firmness you want depends on what you find most comfortable, it's always better to choose the degree of firmness that best suits your sleeping position and body weight.
Here's a quick look at these two factors:
Sleeping position: Your sleeping position is amongst the most critical factors when choosing a mattress for your bed. We note down our personal experiences while sleeping in different positions on the mattress. Sink-in tests also help determine whether a mattress is suitable for a particular position or not.
Body weight and size: A person's weight and size can drastically change how the mattress feels. We usually use two testers with different body builds and weights to test the mattress. This gives us a pretty good indication of how a mattress will respond.
When sleeping, you would ideally lie in an optimal position where your spine follows its natural curvature without being thrown out of alignment.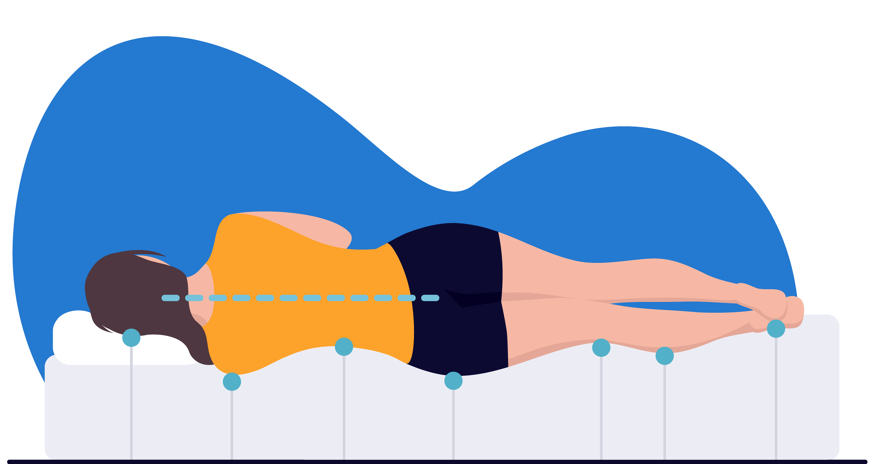 Your spinal alignment and correct posture can only be maintained if the stability and firmness of the mattress are perfectly matched to your height, preferred sleeping position, body weight, and build.
Having measured our sinking depths with testers of different sizes and body weights, we can easily compare the individual test results and overall data with those of other mattresses.
This allows us to give the mattress a degree of firmness on a scale of 1 to 10, with 1 being the softest and 10 the firmest.
Most of the mattresses we tested are between 4 and 8 on the Sleep Hero firmness scale.
Edge support
The edge support of the mattress may have something to do with its degree of firmness, but this isn't always the case.
What exactly is edge support?
This is the overall support you get from the mattress when you sit or lie at the very end (or edge) of the bed.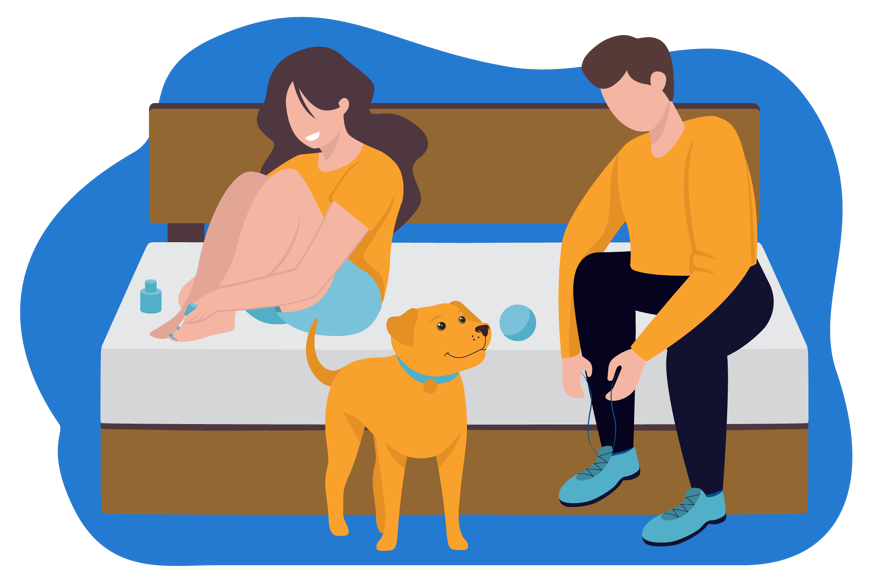 For a few people, edge support can be a deciding factor when buying a new mattress.
It's especially important if:
You share your mattress with your partner and want to use the entire bed width.
You like to use your mattress for other activities, such as painting your nails or reading a book.
You prefer to sit on the side of your mattress in the morning before getting up or in the evening before going to bed.
The best way to test the edge support of your mattress is to put pressure on the edge and see how supportive it is.
We do this by kneeling and/or sitting at the end of the bed:
Sometimes we also test the edge support of the mattress during the night by moving to the side of the bed while sleeping.
Most mattresses sink in slightly when you kneel or sit on the edge, but some would squash down completely, making them quite uncomfortable.
Ideally, we look for a mattress with good edge support.
Motion isolation
Motion isolation or motion transfer indicates how effectively a mattress would absorb all the movement.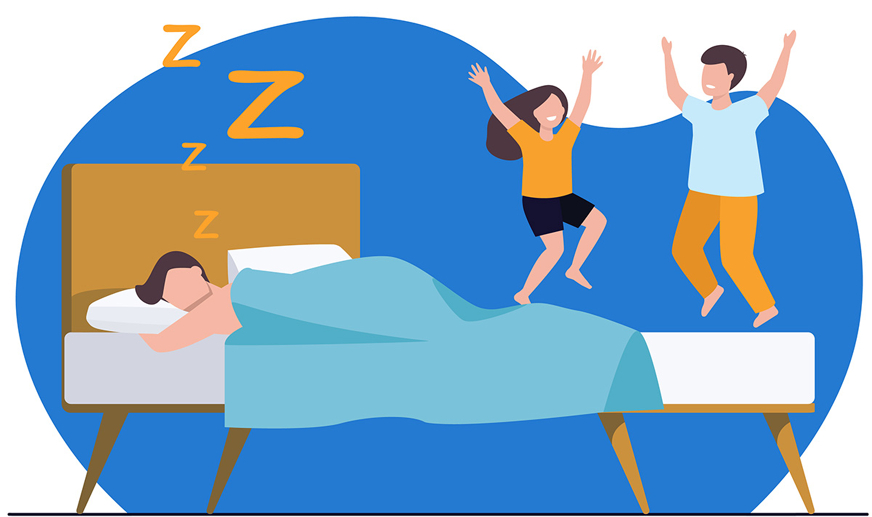 Imagine you're sleeping in bed with your partner.
A mattress with a high motion transfer or low motion isolation would carry movement each time your partner moves while you sleep, which can keep you awake and frustrated.
A mattress with low motion transfer or high motion isolation, on the other hand, can absorb the movements so that both partners can sleep more comfortably.
Preferably, you should choose a mattress with low motion transfer.
We test the motion isolation in different ways.
One of the methods we use to test motion isolation is by using a motion reader.
It's used to measure the motion transfer when moving around or getting out of bed.
The results then look like this: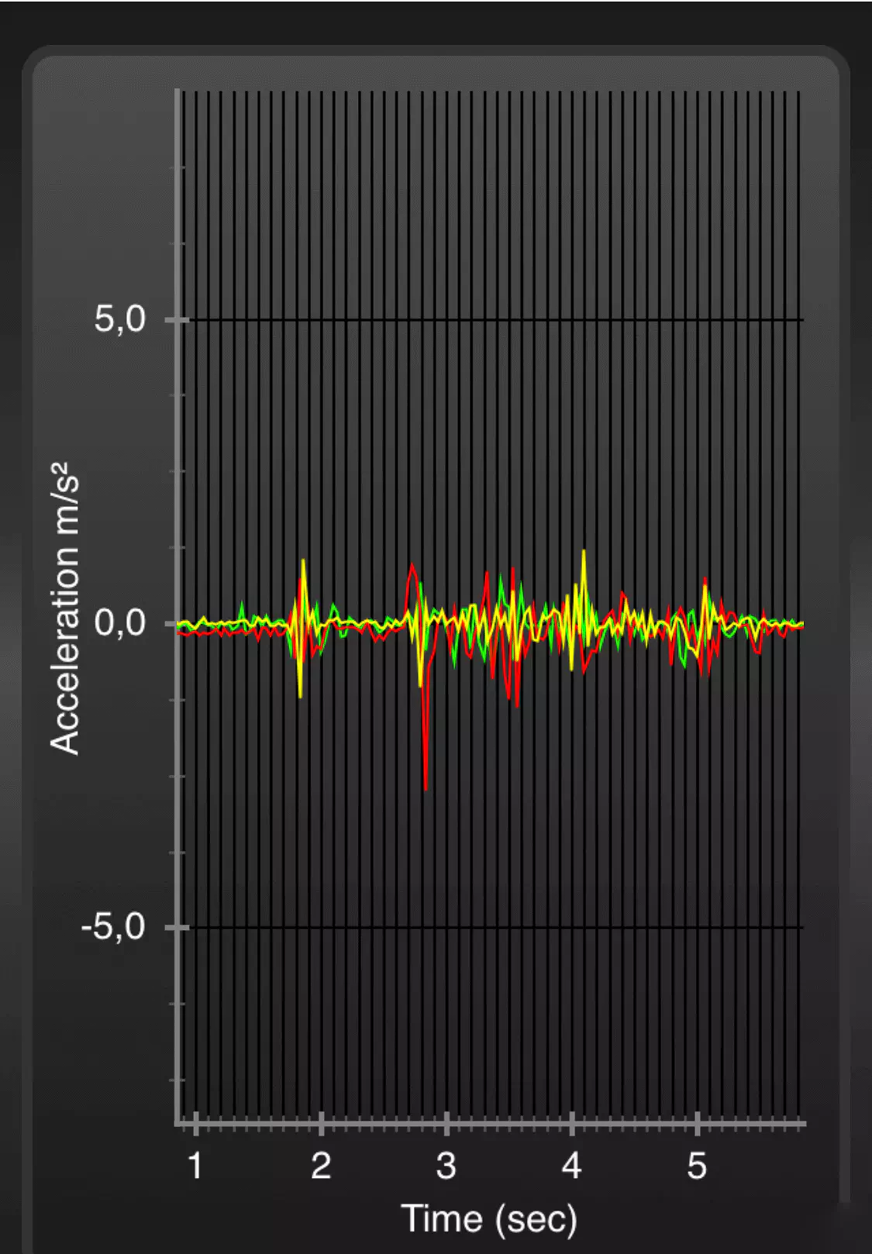 The motion reader clearly indicates when there's movement on the mattress.
The two images above illustrate the difference between a pocket-sprung hybrid mattress (right), which has a slight bounce and memory foam mattresses (left), which are known for their particularly low motion transfer.
We also test the motion transfer of a mattress by doing some fun experiments, like placing a glass of water on the mattress surface and creating motion at the other end.
Temperature
Temperature is a subjective term, as our bodies function differently.
Some people sleep hotter, while others get cold much faster.
But did you know that the material of your mattress can regulate your body temperature?
Different materials regulate temperature differently and can affect how warm you feel at night when you sleep.
The following illustration gives you a quick overview: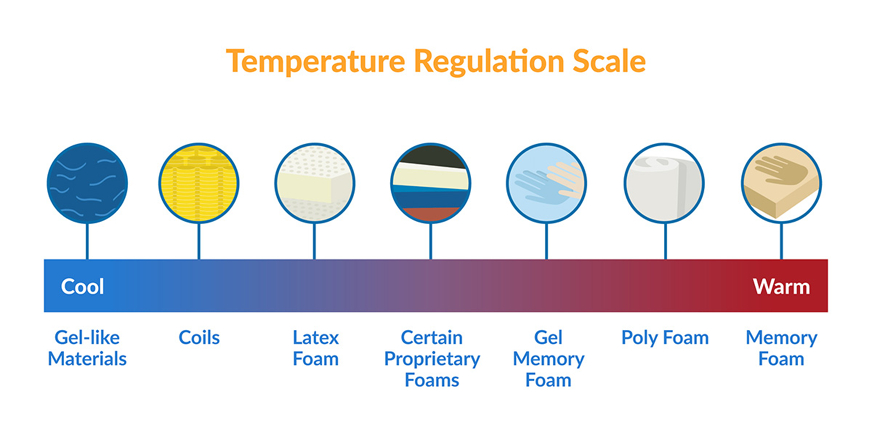 We obviously consider the materials used in a mattress and analyse how warm they may make you feel at night when you sleep.
Even though memory foam mattresses retain the most heat, that doesn't mean you always feel hot and clammy when you sleep on them.
The ideal mattresses are designed to regulate temperature effectively by carrying away excess moisture and heat, keeping you cool and comfortable all night.
Mattress temperature regulation is tested by studying the experiences of our male and female test sleepers to understand how they feel when sleeping on mattresses.
We also use a heat map to better understand what temperatures you can expect between the sheets.
Here's an example of a heat map:
As you can see in the picture on the left, the mattress retained heat where our test sleeper was lying, but remained temperature-neutral everywhere else.
This makes for a cooler and more comfortable night's sleep.
However, the picture on the right shows that the mattress retains significantly more heat, which means you're in for a hot night.
This may be fine if you tend to feel cold at night, but it may be a dealbreaker if you're a hot sleeper.
By the way, the two heat maps above show different memory foam mattresses.
What other factors do we consider?
Tests and other analytical data are, of course, important for us.
But these factors are only relevant to our research if we've understood the requirements of our readers.
We focus on customer reviews and want to attend to all the crucial aspects of the customer journey.
When we test mattresses, we also consider the other unique factors contributing to the user's overall experience.
Price
When we test mattresses, we also ask ourselves whether the product is good value for money or not.
There's no simple answer to this, but we do take a few things into account.
These include:
The overall quality of the materials used, including spring count and the foam density
The sustainability of the product
Whether or not the brand offers a sleep trial for its mattress
The length of the warranty period
We've found that mattresses that appear expensive at first glance are cheaper in the long run and offer better value for money.
For example, a ₹20,000 mattress may seem expensive initially. But if it's a high-quality product that lasts 10 years, it's still cheaper than a ₹10,000 mattress that lasts only 4 years.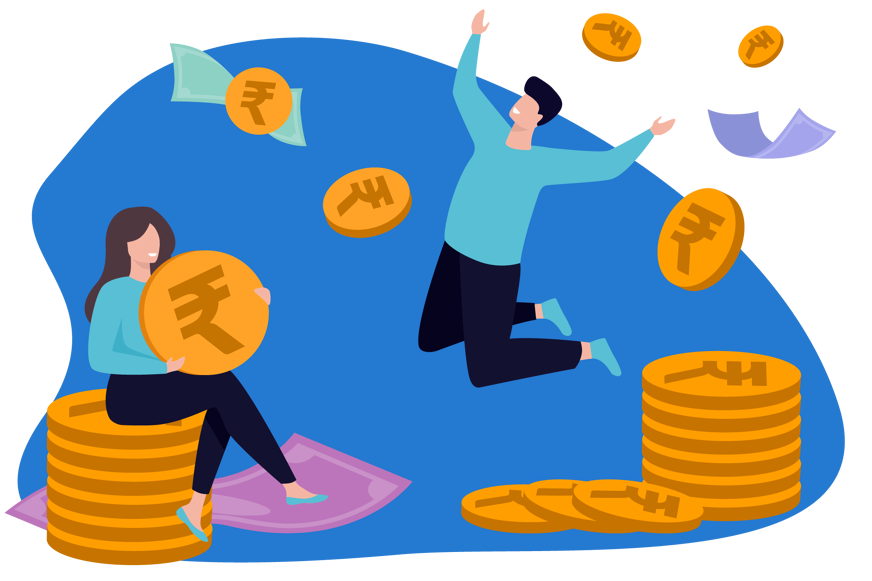 We also consider the discounts available to customers throughout the year and whether the brand offers good deals compared to others.
Delivery
Most brands online promise a simple and fast delivery service. 🚚
But unfortunately, this isn't always the case.
That's why we start by looking at the delivery and return process for the product, including everything related to unpacking the mattress.
A cumbersome delivery process isn't always the brand's fault, as most outsource this process.
Nevertheless, we think it's important to flag any issues during delivery.
Here are some of the things we consider:
How long does the delivery take?
How much communication do we receive during the delivery, and is it efficient?
Is the product delivered to the door or brought to the room of our choice?
Is the product (or box) delivered damaged or in good condition?
How is the mattress packaged (i.e. is it delivered flat or as a bed in a box)?
What packaging is included, and is it recyclable?
How much packaging is used?
Are there additional niceties, such as thank you notes or a gift?
Is the product easy to unpack?
Is there off-gassing, and if so, how long does it take for the smell to disappear?
Is there a service for removing old mattresses?
We can also focus on other aspects of the delivery process, but this is usually specific to a product or brand.
We also walk you through the step-by-step unboxing process of the product with pictures or videos and document how easy it is to unpack the product.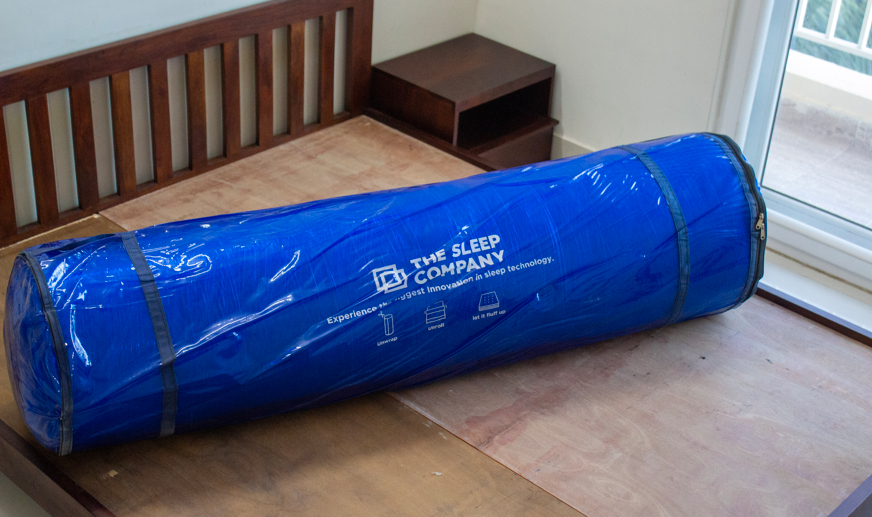 We also take a closer look at the product return process.
Here are a few questions we consider:
Does the brand offer a risk-free trial period?
Does the brand offer a full refund or just an exchange?
Is it easy to set up the return?
Is there a cost to the customer during the process?
Does the brand collect the product?
Nowadays, most brands offer their customers a risk-free trial period, but the details of the return process can affect how convenient the process is for consumers.
Practicality
It's great to have a quick delivery of a comfortable mattress that feels cool to sleep on and doesn't transmit too much movement.
But many review sites tend to neglect the convenience and practicality of the mattress.
It's like buying the perfect pair of pants, only to find out that you can only dry-clean them with certain products.
Would you then be willing to wear those pants every day?
Probably not.
Since you'll be using your mattress every day, you need a convenient product.
We're all so busy in our lives that taking care of a mattress should be last on our to-do list.
We want a product that's easy to care for and lasts long.
That's why we also pay attention to a few convenience factors:
Whether the mattress has a removable and/or machine-washable cover
How easy is it to wash, dry, and put the mattress cover back on
Whether the mattress can be cleaned and how to do it
Whether the mattress needs to be flipped every few months and how to turn it easily
How difficult the mattress is to move, i.e. whether it has handles on the sides
How heavy is the mattress
These are some factors you may not think about at first but can affect your daily life.
These seemingly small factors can cause big problems.
People with limited mobility or an elderly couple, for example, are better off with a mattress that doesn't need to be turned too often or that's light and has handles on the side.
Allergic sleepers or people who suffer from skin conditions such as eczema are better off with a mattress that repels dust or has an easy-to-remove washable cover.
We can explore all of these aspects when testing mattresses at home and may even come across new factors that we'd not initially considered.
Durability
The average lifespan of a high-quality mattress is between 8 and 10 years.
While it is impossible for us to run our mattress tests for that long, we consider its average durability depending upon the quality of the materials used to make the product.
Mattresses made of high-quality materials with a good guarantee period are likely to last long.
On the other hand, mattresses made of lower-quality materials are likely to wear out more quickly.
What other products do we test?
We don't just test and review mattresses.
We've also tested a wide range of sleep accessories from some of India's most popular brands.
Below, we take a closer look at how we test some of these products.
Testing pillows
We have tested some of the best pillows in India.
And we don't just test bed pillows.
We've also tested neck pillows and pregnancy pillows and hope to try more types of pillows in the future.
But what actually makes a good and comfortable pillow?
Just like with mattresses, the experience of deciding which pillow you prefer is very subjective and depends on individual preferences.
Nevertheless, there are a few factors that we take into account when testing pillows.
These include the following:
Loft: The height of the pillow you prefer depends on your preferred sleeping position and your build.
Material: The material of the pillow influences the feel and loft of the pillow. This is an essential factor that allergy sufferers should consider.
Adjustability: An adjustable pillow is one with shredded foam or removable layers that you can adjust to achieve your ideal height and firmness.
It's also important to know that the feel of a pillow can also affect the mattress you use.
Depending on how hard or soft your mattress is, you may need a lower/softer or a higher/firmer pillow.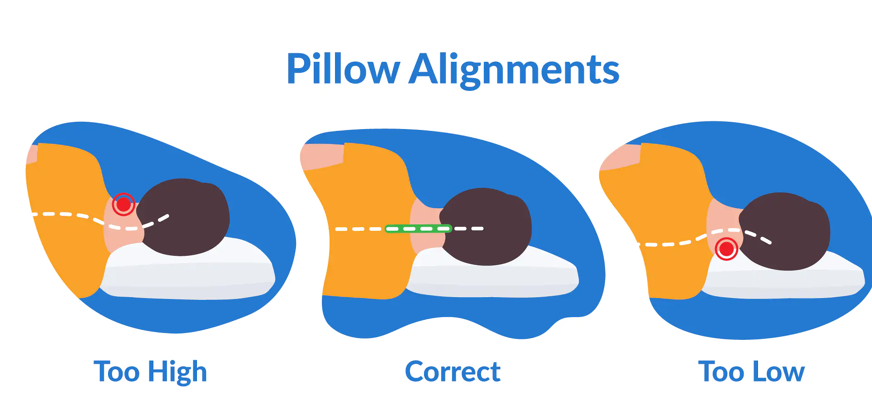 Here are some other questions we ask when testing pillows:
How is the pillow delivered?
Does the pillow have a removable and/or washable cover?
Does the pillow hold its shape over time?
Does the pillow sleep cool?
All these factors affect the overall practicality and sleeping comfort of the pillow.
Because we test the pillows at our home, we have the advantage of being able to try them out over a more extended period.
Unlike testing labs, we can analyse whether the pillow is still comfortable after longer use and update our articles accordingly.
Testing duvets
We've also tested some of the best duvets in India.
Contrary to what you may think, a duvet can make or break your sleeping experience.
It is amongst the most important factors to consider when analysing your overall sleeping temperature.
In addition to the standard quality questions and delivery process, we also consider the duvet material, tog size and comfort.

Another factor we look at is whether the duvet is machine washable or not.
Although many duvets are washable, it's not always practical to machine wash them.
And since we test them at home, we can analyse how practical it is to wash them.
Look at the picture below:
Although the coverless duvet was machine washable, it didn't quite fit in our washing machine, and we had to take it to a launderette.
By analysing the entire process and documenting it in our article, we can save readers from buying a duvet that's difficult to maintain and unsuitable for their lifestyle.
Testing mattress protectors
A mattress protector would guard your mattress against accidental spills, stains, bacteria, and moisture.
Using a protector is a great way to keep your mattress looking fresh and clean for longer and increase its longevity.
There are a few factors we consider when testing a mattress protector.
These include:
Is the mattress protector made of high-quality materials that are breathable and soft?
Is it easy to attach to the mattress?
What's it like to sleep on the mattress, and does it negatively affect sleeping comfort?
Does it actually protect the mattress?
We also examine whether the mattress protector wrinkles, whether it makes noise or feels plasticky and whether it's easy to put on the mattress like a fitted sheet.
To test out the waterproof claims of a mattress protector, we recreate accident-like situations by spilling some water on the protector.
Here is a look at the results:
You can evidently see that the mattress protector is able to protect the mattress adequately, and the water hasn't seeped through.
Mattress protectors may seem unimportant at first glance, but we firmly believe that investing in a quality waterproof mattress protector should be non-negotiable.
Testing mattress toppers
A mattress topper can entirely change the way your mattress feels.
These thick layers of material are designed to be placed on top of the mattress, making your mattress surface more comfortable.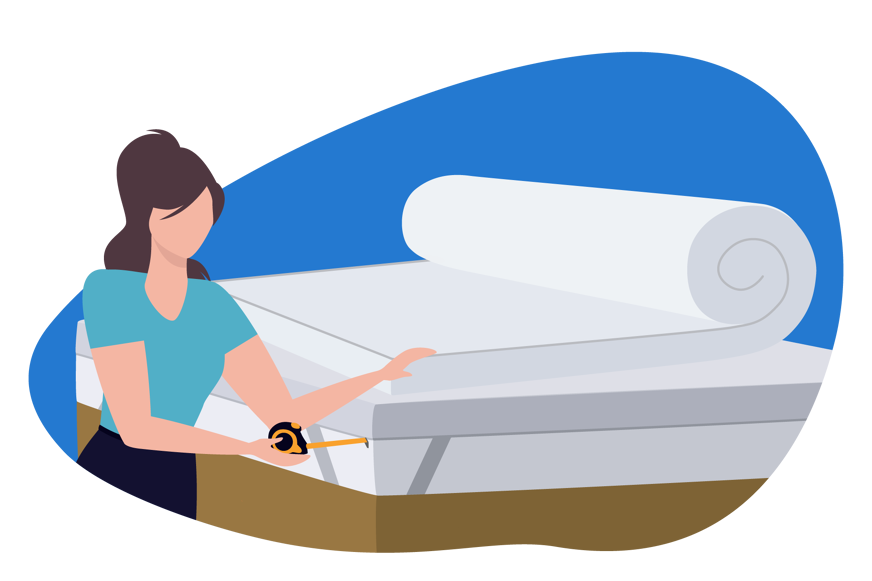 Testing a mattress topper is similar to testing a mattress because the topper affects your sleeping surface.
That's why we run many of the same tests that we do for mattresses.
However, we should also be aware that the mattress underneath the topper can significantly affect the comfort of the topper.
This makes it somewhat difficult to draw general conclusions.
Along with the more standard questions, we also analyse the following points:
What material is the mattress topper made of?
Is the mattress topper slightly firm or soft and squishy?
For which sleeping position is the mattress topper best suited?
Is the topper thick enough to make a difference?
Does it sleep cool or warm?
Is there a removable and/or washable cover?
Does it have straps that make it easy to attach to the mattress?
Can it be stored easily?
Unlike a pillow, mattress protector, and duvet, a mattress topper is not always necessary.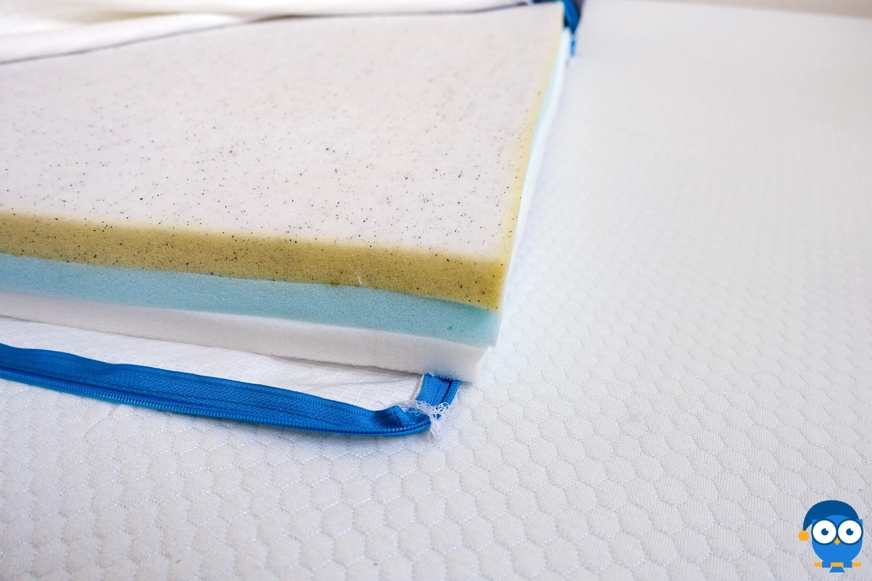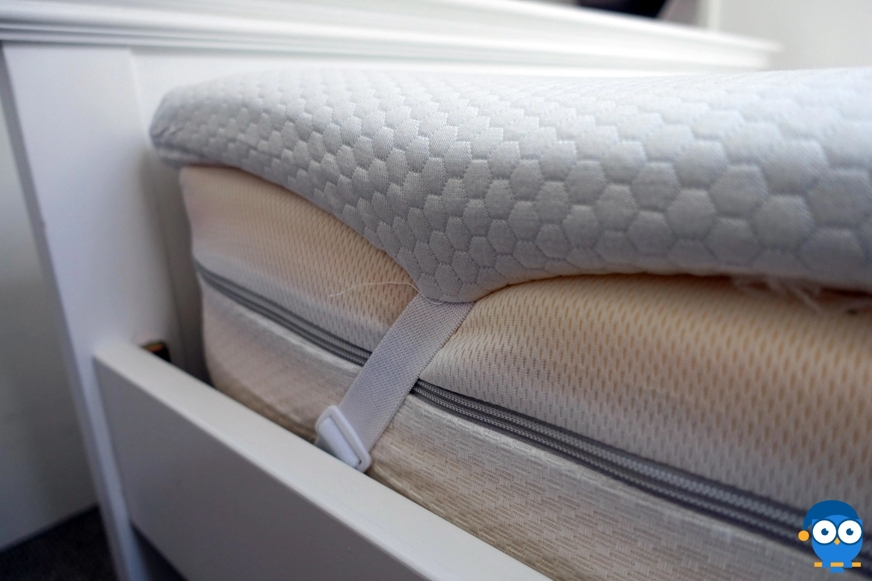 We always pay attention to whether it's a product you should actually invest in or not.
Why you can trust us
While we spend a good amount of time testing our products and gaining first-hand experience, we also rely on our in-depth knowledge of sleep products and the sleep industry.
Countless hours of research go into every article we write.
We speak directly to manufacturers to better understand product materials, keep up to date with the latest trends in the world of sleep and continually expand our knowledge base with sleep accreditations.
We also rely on our international team of sleep experts to continually train our team and verify all information.
And we won't stop there …
We will continue to update our methodology page with testing methods, new practices, products, and discoveries.
Despite our experience, the sleep industry is constantly transforming, and our testing methods should reflect any new developments in sleep research.
Your opinion means a lot to us.
So if you have any further questions or suggestions about our testing process, please feel free to contact us at info@airi.media.