How much does a pregnancy pillow cost?
The cost of a pregnancy pillow depends on its shape and the quality of the fabric.
On average, these pillows can cost between ₹1000 and ₹2800.
Smaller wedge pillows are slightly more affordable. 💵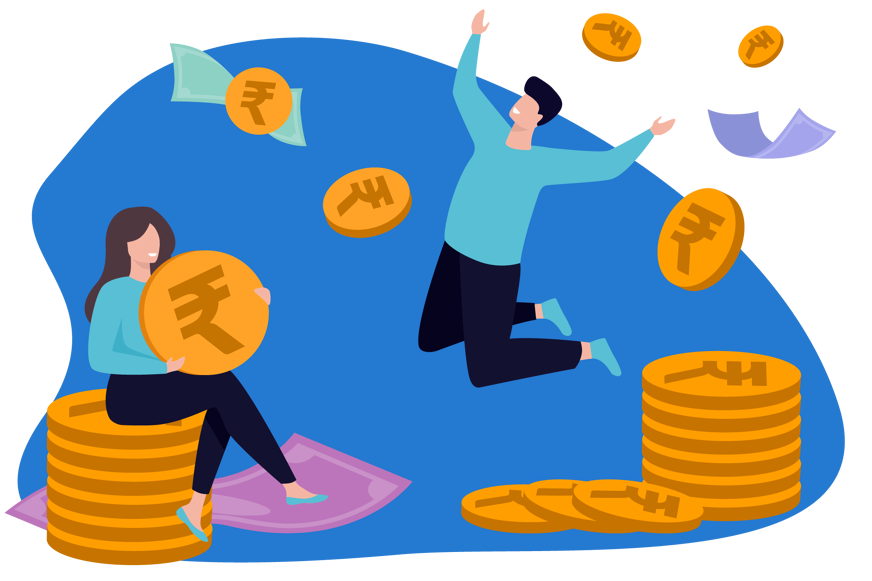 Large C-shaped and rectangular cushions, on the other hand, are comparatively more expensive.
The cost of the pillow also depends on the quality of the filling and the cover.
Cheap pillows may not last as long and aren't as comfy as the expensive ones.
When it comes to pregnancy pillows, you should choose one that's comfortable and doesn't contain harmful chemicals.
Types of pregnancy pillows
Pregnancy pillows differ in size and shape.
Which pillow is best for you depends on your sleeping position and your trimester. 🤰🏻
Here are the basic types of pregnancy pillows you can choose from.
U-shaped pregnancy pillow
The U-shaped pregnancy pillows are extra large pillows that provide comfort from head to toe.
These pillows are more suitable if you're in your 2nd or 3rd trimester. 🕒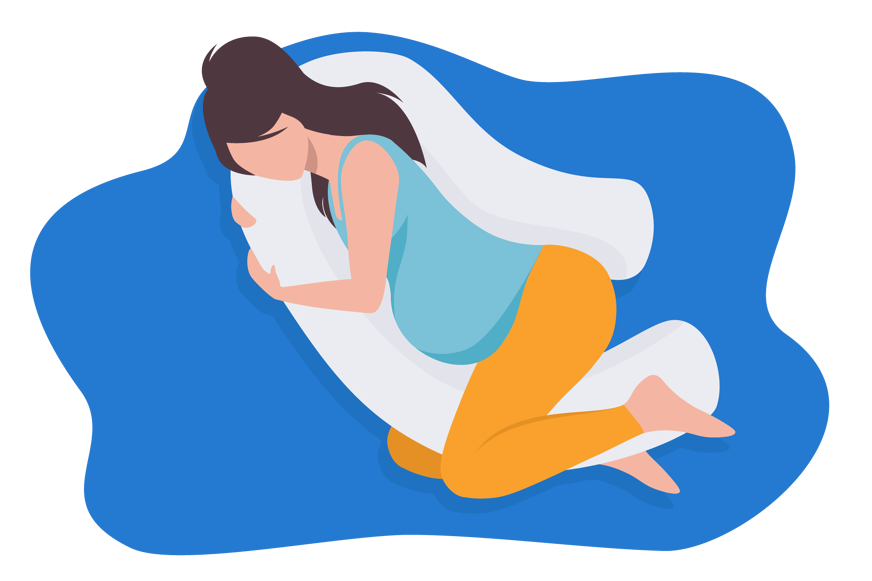 Some U-shaped pillows have a curvature that mimics the shape of your growing belly.
These pillows are ideal for side sleepers who frequently turn from side to side.
Full-length body pillow
A full-body pillow is a longer version of your regular pillow.
These pillows provide much-needed comfort during your pregnancy by supporting your growing belly. 🤗
You can also place these pillows between your legs to keep your back upright.
Normally, these pillows only support one side of your body.
However, a few body pillows are made of flexible fabric and filling, so you can adjust them to your body more easily.
C-shaped pregnancy pillow
C-shaped pillows are also extra large and function similarly to the U-shaped pillows.
However, they don't have a second side and take up much less space.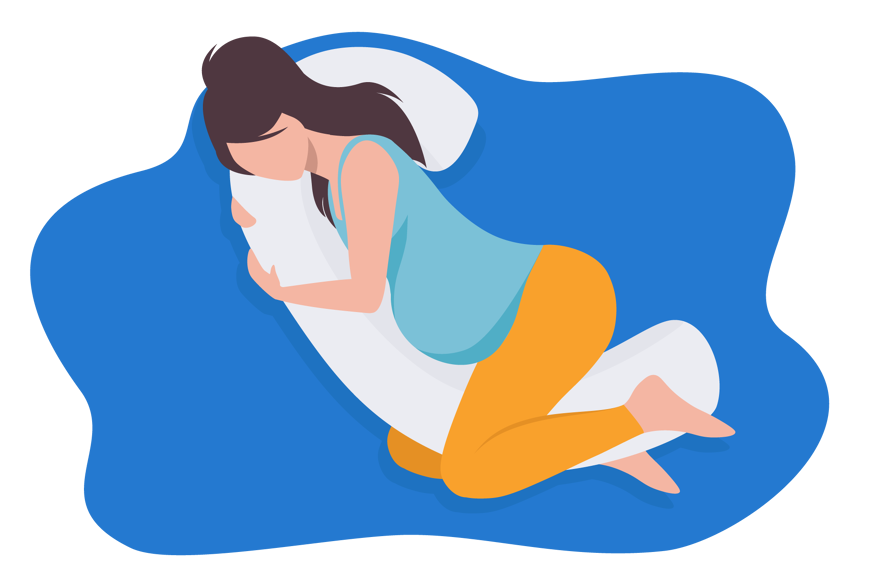 C-shaped pillows are also easier to transport. 🚗
Since these pillows only have one side, you've to move the pillow depending on whether you need support for your back or your belly.
Wedge pregnancy pillow
Wedge pregnancy pillows are perfect for providing localised support.
You can use these multifunctional pillows during or after your pregnancy. 🤱
You can simply slide the wedge pillows under your lower back, tummy, or thighs for extra support.
Because these pillows are smaller, you can easily take them from room to room or even when travelling.
However, wedge pillows don't support your whole body.
J-shaped pregnancy pillow
J-shaped pregnancy pillows are shaped like candy cones and have a large bulge on the bottom.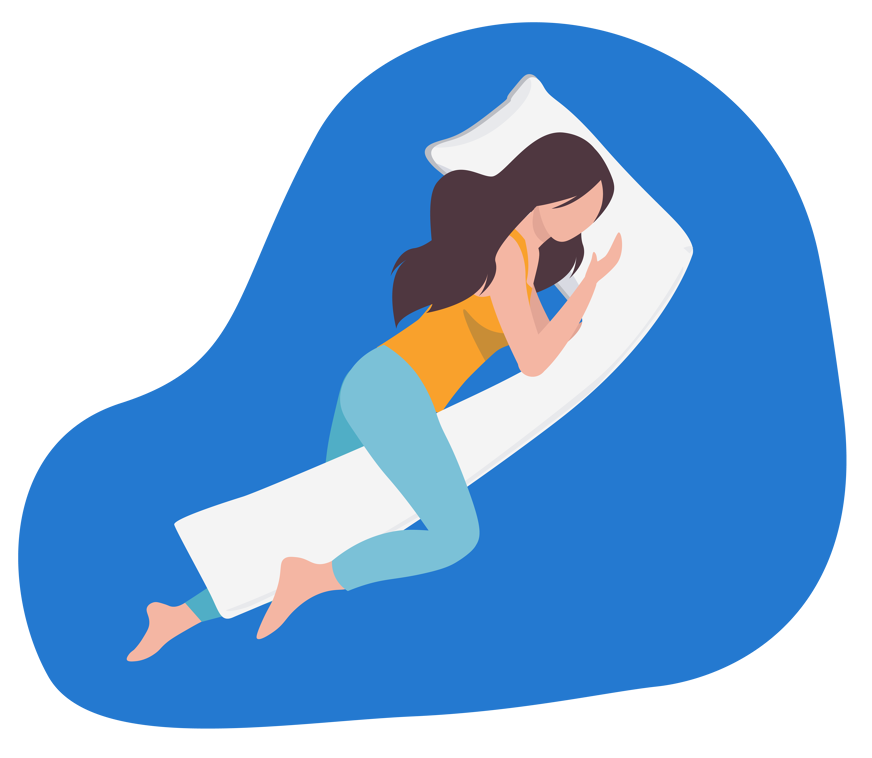 You can use these pillows to get extra support between your legs. 🦵
The J-shaped pillows keep your hips at the right distance and offer lower back support.
You can also turn these pillows upside down and use the curvature under your head.
How to choose the right pregnancy pillow?
Different types and brands of pregnancy pillows on the market offer something unique for your sleep during your pregnancy.
Although the right pregnancy pillow depends on your preferences, you should consider a few things.
Size
Pregnancy pillows are available in a variety of sizes.
They range from a small, standard-sized wedge pillow to a full-body support pillow that hugs you from the front and back.
Before you choose a pregnancy pillow, you should consider how much space you want to give your pillow. 🛏️
It would be helpful if you also considered whether you'd be travelling during your pregnancy and then decided on the size of your pillow.
Shape
Some pregnancy pillows are designed for complete support, while others are shaped to support a specific part of your body.
Depending on your discomfort, one option may make more sense for you than the other. 🤔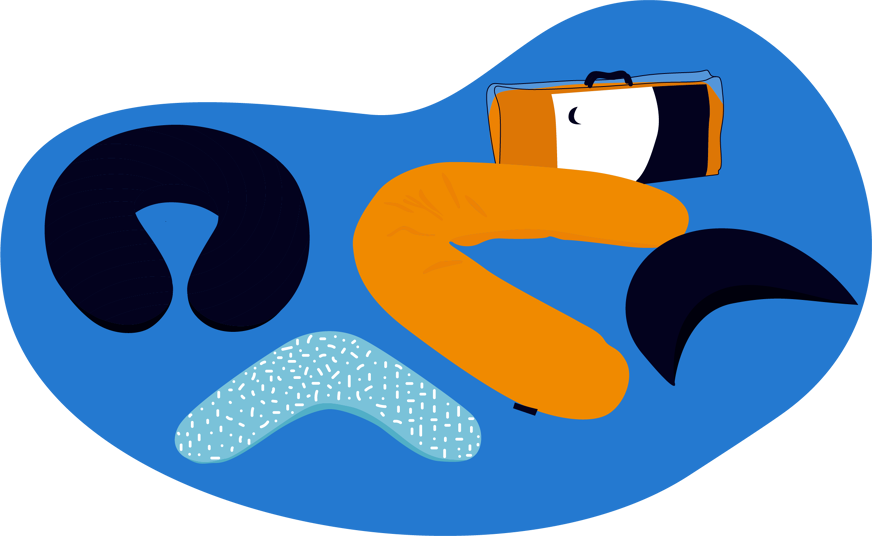 Before choosing your pregnancy pillow, you must also analyse whether you shift sides too often.
A U-shaped pregnancy pillow might be a better choice if this is the case.
This way, you don't have to keep flipping your pillow over.
Filling
Like your conventional pillows, pregnancy pillows differ in the filling material. 🧶
You can choose the filling according to your region and personal preference.
For example, if you're a hot sleeper, you should prefer a pillow with cotton fibres.
Contrarily, if you want the pillow to contour to your body shape, you should choose a pillow made of memory foam.
While selecting a maternity pillow, you should also ensure that the filling is free from harmful chemicals and hypoallergenic.
Trimester and Sleeping Position
The comfortable sleeping position and the trimester you're in go hand in hand when choosing your pregnancy pillow.
In the first or second trimester, you prefer to sleep on your back and may need a wedge pillow to align your spine properly.
However, sleeping on your back can become more difficult as your belly grows. 🤰🏻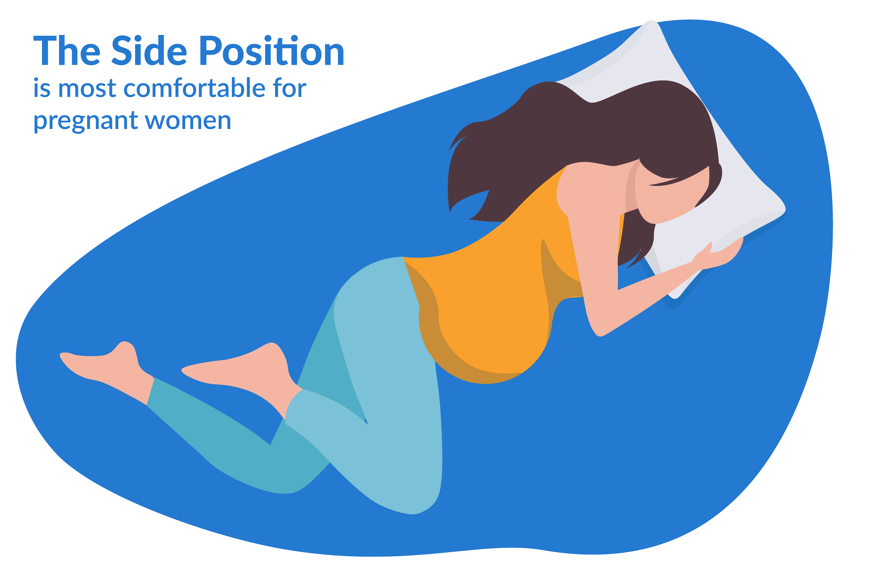 In the third trimester, you may prefer to sleep on your side and use a full-body, U-shaped or C-shaped pillow to support your belly.
Washable Cover
It is important to keep your pregnancy pillow clean when you are pregnant.
You should choose a pillow that offers a removable cover and one that you can easily wash in the washing machine. 🧺
This minimises your workload and ensures that your surroundings are clean and hygienic.
How to use a pregnancy pillow?
There is no right or wrong way to use your pregnancy pillow.
It would help if you used the pillow in a way that feels comfortable for you.
Here are some ways to use different pregnancy pillows to support your belly and alleviate your pain. 👇
Placing it under your belly
Sleeping on your side is the most recommended position if you're in the late second or third trimester.
But this can strain your back and isn't the most comfortable sleeping position. 😖
You can place a wedge pillow, a U-shaped pillow or a full body pillow under your belly to support it.
This will also support your back muscles while you sleep.
Placing a pillow between your legs and arms
You can also wrap your legs and arms around a full-body or U-shaped pillow.
This sleeping position is similar to cuddling with the pillow. 🤗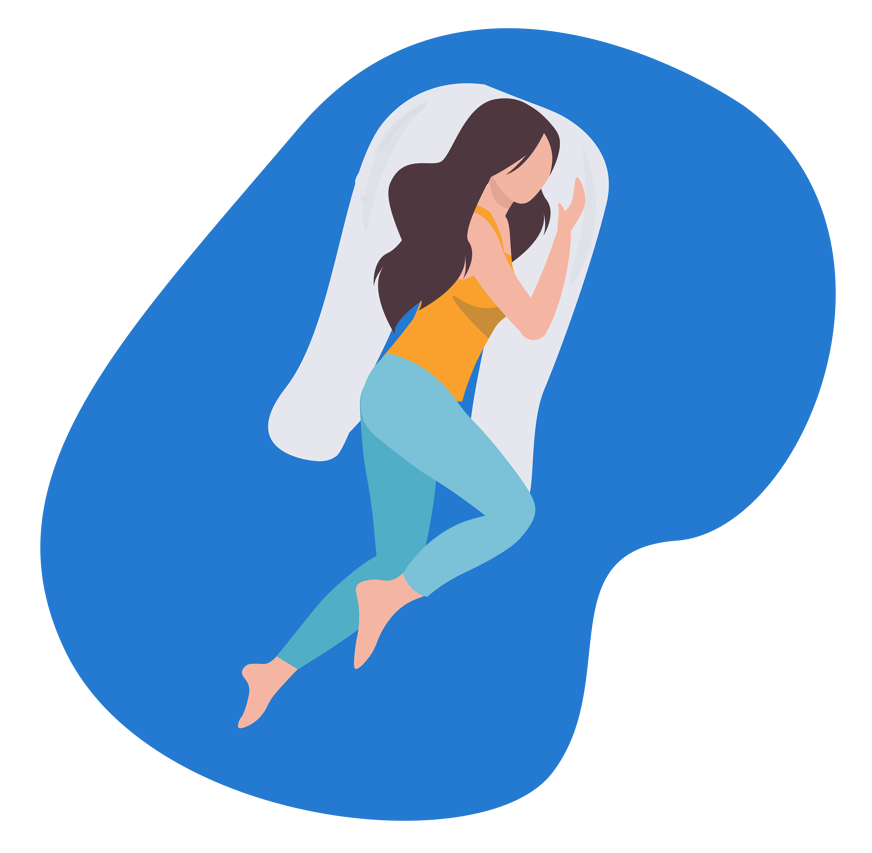 The centre of your pregnancy pillow should support your growing belly.
You can also take the tension and pressure off your knees and ankles by positioning the pillow between your legs and arms.
Wrapping it around your back
You can wrap your C-shaped, U-shaped, or J-shaped pillow between your legs or your back. 🦵🏼
When you sleep in this position, the pillow offers back support and aligns your spine and pelvis.
These pillows prevent you from rolling onto your back while you sleep.
Placing it under your neck and head
You can support your head and neck by placing your wedge pillow under your regular pillow.
This can help relieve the symptoms of acid reflux or heartburn. 😌
You can also place the C-shaped, J-shaped, or U-shaped pillow under your head to keep your spine upright.
Is a pregnancy pillow safe?
Pregnancy pillows are extremely safe and can make your journey a lot easier and more comfortable.
You can start using pregnancy pillows as soon as you notice your belly growing or as soon as you pass the 20-week mark.
These pillows can help you fall asleep faster and sleep a little longer. 😴
Some maternity pillows, such as the Hoopa 3-in-1 pillow, can also be used as a feeding or nursing pillow.
Should you buy a pregnancy pillow?
Growing a human being in your belly can be a challenge. 🤰🏻
Pregnancy pillows would offer all the comfort, sleep and relaxation you need during your pregnancy period.
It can support your growing baby bump and relieve pressure points in your back and ankles.
You can get through your pregnancy without pregnancy pillows, but these will make your journey much more comfortable.
If you're through your pregnancy journey and do not want to invest in a pillow, you can also choose to buy a baby pillow.
Here are some of our favourite baby pillows.
Our recommended baby pillows
The White Willow

Price from &nbsp

₹699

₹ (1,299 )

Scientifically designed infant baby pillow with a concave circular opening for great head support.

Scientifically designed infant baby pillow with a concave circular opening for great head support.

Price from

₹699

(₹1,299 )

Omved Therapies

Baby's First Pillow Aromatherapy Mustard Seeds

Price from &nbsp

₹498

₹ (499 )

The Omved Baby's First Pillow comes filled with mustard (rai) seeds, which is an ancient Ayurvedic remedy for preventing flat head syndrome.

The Omved Baby's First Pillow comes filled with mustard (rai) seeds, which is an ancient Ayurvedic remedy for preventing flat head syndrome.

Price from

₹498

(₹499 )

Baby Head Shaping Memory Foam Pillow

Price from &nbsp

₹499

₹ (2,199 )

The bear-shaped Circleday Baby Head Shaping Pillow.

The bear-shaped Circleday Baby Head Shaping Pillow.

Price from

₹499

(₹2,199 )