Is Kurlon a good brand?
Kurlon is synonymous with credibility and trust in the Indian mattress industry.
It is a leading brand that offers a perfect blend of comfort, luxury, and affordability.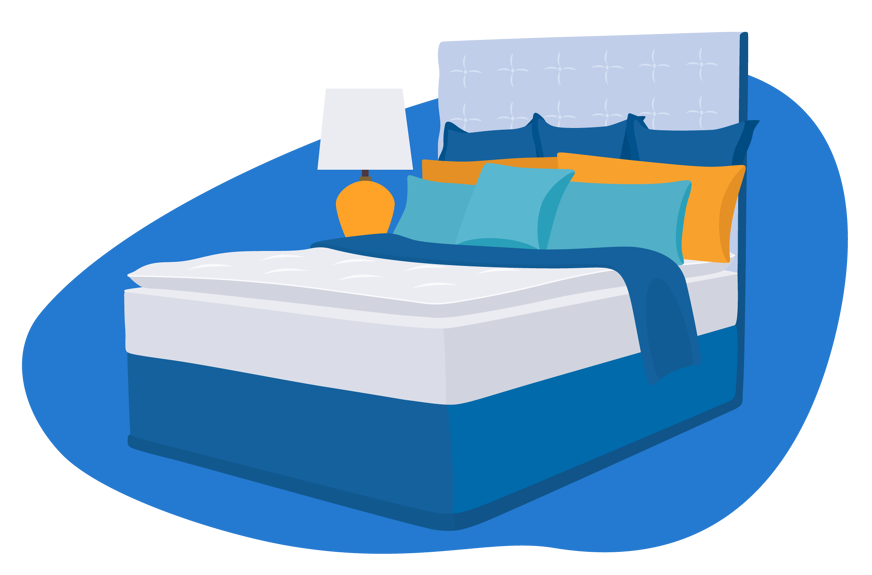 All Kurlon mattresses are free from plasticizers or polyurethane bumpers.🌛
Over the years, the brand has developed progressive spring, hybrid, and orthopaedic, memory foam mattresses varieties.
The comfort and body support these mattresses offer is at par with other high-end brands in the market.😋
There are Kurlon mattresses for all sleepers, offering superior support for the lower back, shoulders, neck, and head.
The mattresses come with eco-friendly springs, materials, progressive center densification, anti-microbial technology, and anti-dust mite protection.
All these features make Kurnlon the good mattress brand for joint aches, backaches, elderly, and kids alike.
What Are The Types Of Mattresses That Kurlon Manufactures?
Kurlon manufactures four mattress series:
Komfort
Relax
Active
and Trendy.
Stay with us as we explain all the types one by one. 👇
Komfort series
This mattress range can be the right pick for you if you seek comfort over anything else while sleeping.😋
The Kurlon Komfort mattress collection offers Sparkle and Pure Coir mattresses.
The 4-inch (10.16 cms) rubberized pure coir mattress offers supreme comfort as it is made with the finest natural materials.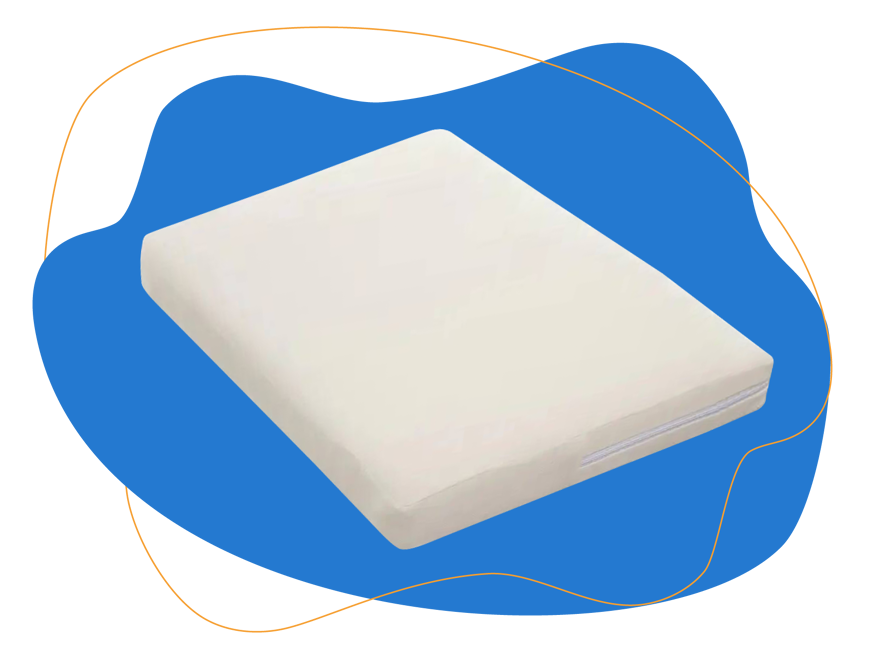 The premium polycotton fabric promises a blissful good night's sleep for you.😇
You can get this mattress in four sizes: king, queen, double, and single bed mattress.
Sparkle Kurlon mattress, on the other hand, features a soft polycotton fabric.
You can choose from a 4-inch( 10.16 cms) or 5-inch (12.7 cms) model in single, double, king, and queen sizes.🛌
Moreover, Kurlon also offers a two years warranty on both products.
Relax series
Are you looking for an affordable mattress for your home?
If yes, here are some useful mattress options for you.😮
Three models are available in the Relax Foam Mattress category:
Kurlobond,
Kurlon Dream Sleepand Kalamkari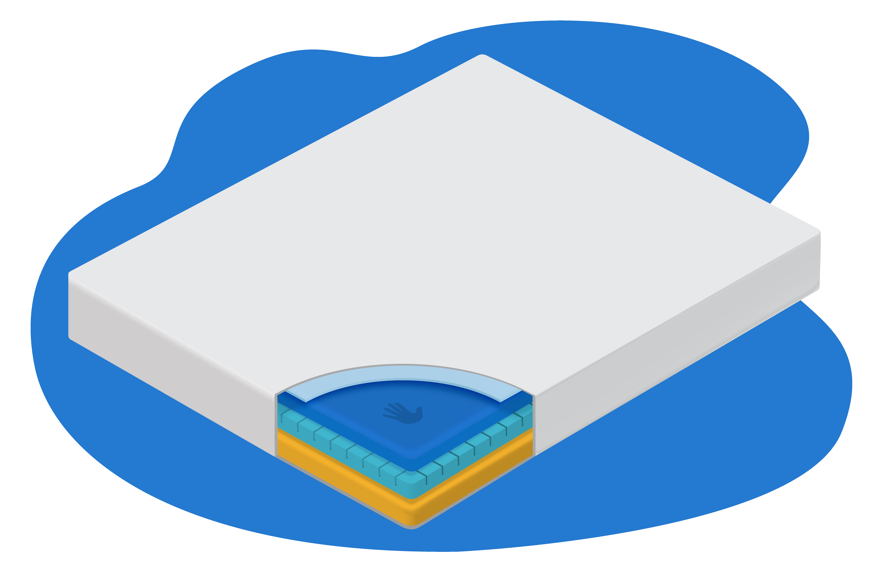 Kurlobond is one of the most popular mattresses that feature high-quality foam at the core.🛌
Its anti-microbial technology makes this mattress 100% safe for allergy-prone kids and elders.
Moreover, it also comes with a stylish polyester tapestry to create a modern look.
The Kurlon Dream Sleep mattress is engineered to provide ultimate support to the neck, shoulders, and head.
Moreover, the tensile springs help the body relax.😴
The side ventilators help keep the bed well-ventilated during summers.
Made from 100% natural coir, the Kalamkari mattress is an ideal mattress for all types of sleepers.
Kurlon Active series
Do you have a backache?
If yes, Kurlon Active can be the right mattress for you.
Kurlon offers two mattress models under this category; Spine Therapy and SpineKare Mattress.🤩
The Spine Therapy Mattress offers a perfect combination of comfort and support to the users.
This high-density bonded foam mattress provides a hugging comfort in every sleeping position.😁
Moreover, this ortho mattress is super durable and keeps its shape over the years to provide comfort at every turn.🙋
The antibacterial material prevents bacteria and mould from breeding in the mattress.
On the other hand, the Spinekare mattress is made up of a high-density rubberized core.🙃
It is also covered with memory foam from one side and also features a dust mite protection system.
Kurlon Trendy series
This range of Kurlon mattresses offers sleep-focused and innovative mattresses that will promise a luxurious night's sleep.😃
The mattress comes with a durable pillow spring with comfortable layers of memory foam covered in premium GSM knitted fabric.
You get options like Desire Top, Angelica Box Top, Kurlon Convenio, and Mermaid mattresses to choose from.🛌
All these mattresses range from 4 to 10 inches ( 10.16 cms to 25.4 cms) according to the model.
Kurlon Desire Top comes with a double-sided pillow spring along with an extra layer of foam.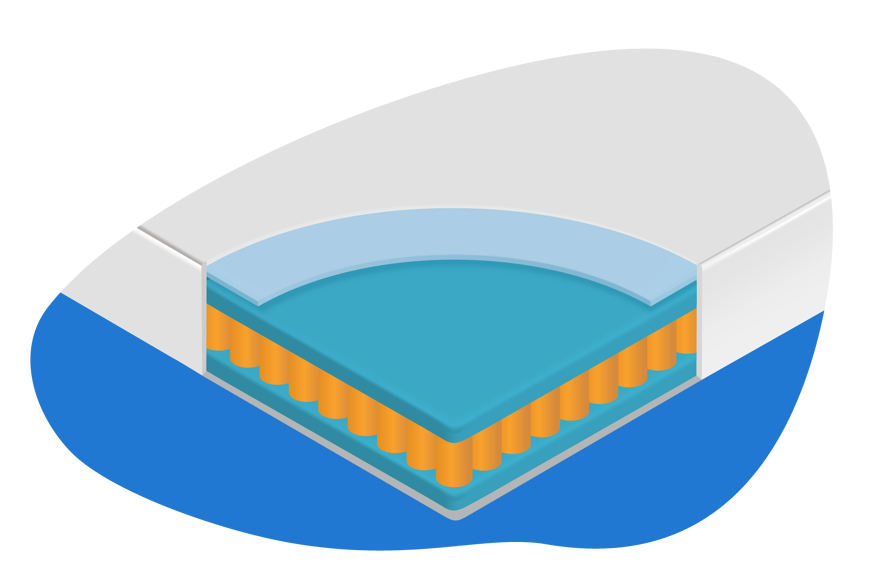 Similarly, Kurlon Convenio is a multi-layer foam mattress which makes it great option for comfortable sleeping positions.
It eliminates flat spots and sinking, providing extra support and comfort.👩‍❤️‍👨
The Angelica Box Top mattress comes with high-tensile springs, zero partner disturbance, and
MSI technology to ensure perfect bounce.
The high-quality helical border prevents the mattress from sagging.
Last but not least, the Kurlon Mermaid mattress features a memory foam core that is meant to provide ultimate support and comfort to the sleeper.
Apart from these, Kurlon Luxurino and Kurlon Relish Pillow Top are other mattress options that provide a luxurious sleeping experience to the users.😆
What Are The Materials Used In Kurlon Mattresses?
Kurlon mattresses are available in three types of materials: Coir, Foam, and Spring.
Let us have a look at all the types one by one.
Coir
Kurlon coir mattresses are one of their highest-selling products at the moment.
These mattresses are temperature friendly and help keep your body cool while asleep.🛌
Moreover, this mattress is hygroscopic.
It absorbs moisture during humid weather, giving you a dry feel on the mattress.
This mattress also stimulates better ventilation and airflow.🤩
The best part is that coir mattresses are 100% environmentally friendly.
They are made up of natural fibre.
Apart from this, coir mattresses also feature allergy resistance qualities.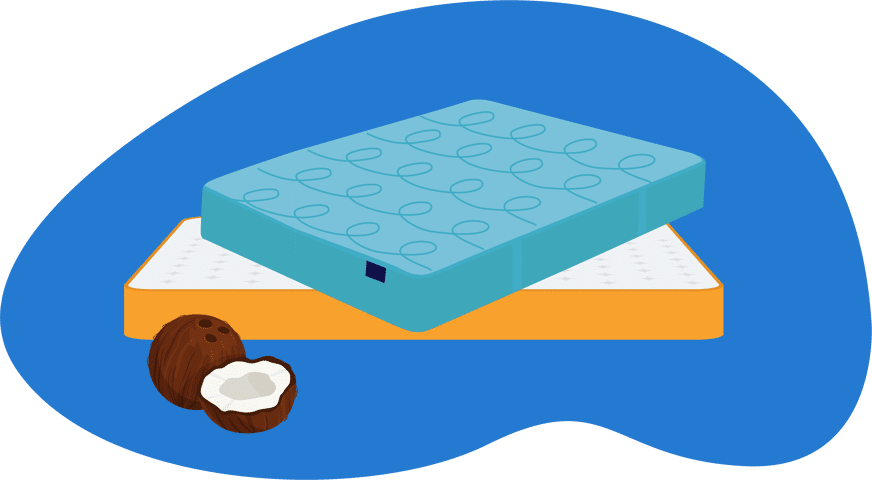 The strength and firmness offered by these mattresses are unmatchable.😅
The natural bounce or springiness supports the natural S of the spinal cord.
It is an all-around mattress that is ideal for all age groups and sleeping styles.😌
Foam
Kurlon also offers a wide range of foam mattresses to cater to the comfort needs of its customers.
These mattresses come with high-density foam and tensile spring layers.😁
The anti-microbial and dust mite protection technology will keep respiratory issues like asthma at bay.
Moreover, the RC layer ensures the body 100% comfort and support.
Foam mattresses do a wonderful job of distributing the body weight evenly on the bed.🛌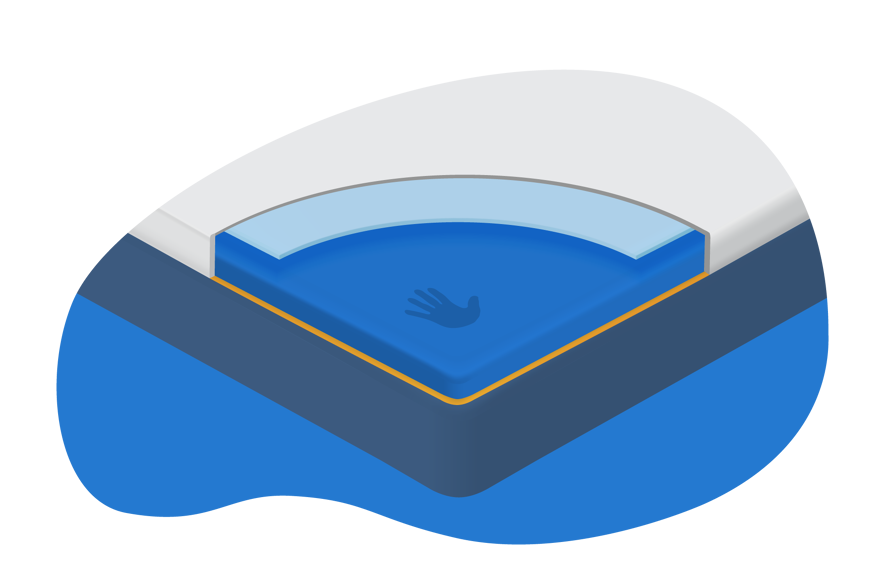 It helps in reducing pressure on the heavier parts of the body.😄
This feature relieves pain and stimulates better blood circulation all through the night.
Foam mattresses also have brilliant contouring features, creating a personalized sleep zone.
That's not all.
The zero partner disturbance feature will restrict transmitting movements from the other side of the mattress.😌
In case you get warm while sleeping, then foam mattresses may not be the right fit for you.
Spring
Kurlon's spring mattress range is ideal for budget buyers.😛
First of all, spring mattresses come with excellent air circulation technology.
The open coils in the spring mattress enable better airflow than any other type of mattress.
This feature makes spring mattresses a boon for warm sleepers.
Kurlon spring mattresses are durable and can last 8 to 10 years.
This mattress is also good for young children and allergy-prone elders. 🤔
Due to intelligent air circulation technology, spring mattresses do not hold bacteria.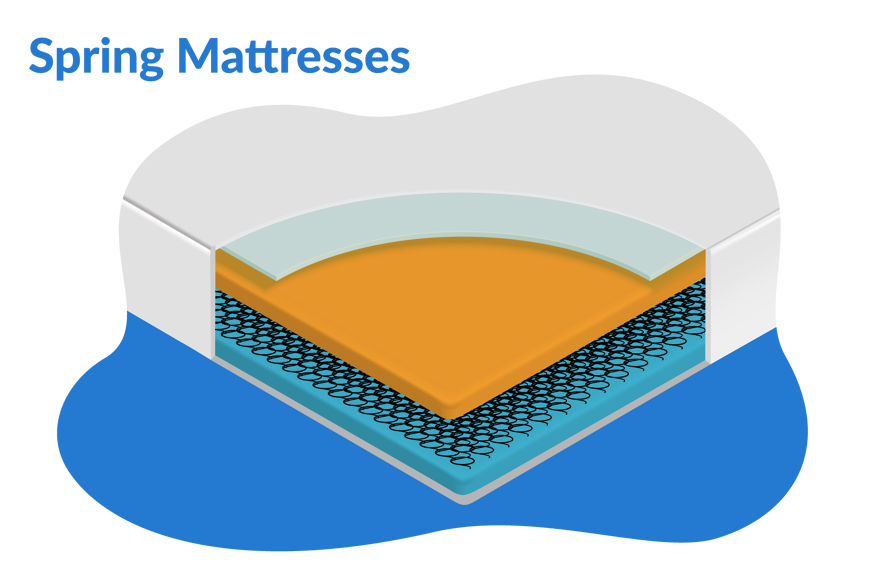 As far as body support is concerned, nothing can beat the strength of spring mattresses.😄
They offer maximum support and comfort to almost all body parts.
Health experts recommend using spring mattresses to prevent backache while sleeping.
The durability and firmness of spring mattresses are hard to replicate.
The individually enclosed springs offer optimal support to your lower back, shoulders, neck, and head.🥳
Moreover, each spring pocket is meant to relieve pressure points, allowing you to sleep all night peacefully.
This Kurlon mattress type is great for orthopaedic patients with shoulder and hip problems.
What Is The Difference Between Kurlon And Sleepwell?
Kurlon is a reputed mattress brand known for rolling out some of India's most durable and high-quality mattresses.
Its products are engineered to cater to the ever-evolving needs of the different types of sleepers. 🛌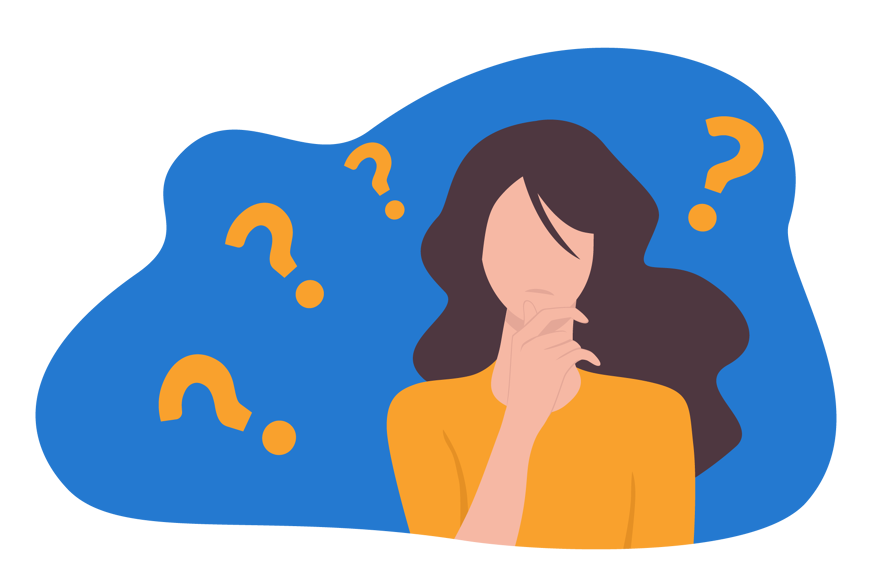 On the other hand, Sleepwell is a popular brand offering a range of comfortable mattresses.
Here is a detailed comparison between both brands for your reference. 👇
Kurlon
Sleepwell
Warranty

Kurlon affordable mattresses come with a warranty period of 1 to 3 years.
Whereas, the expensive models come with 5 to 15 years or a lifetime warranty.

Sleepwell affordable mattresses come with a warranty period of 1 to 3 years.
The expensive models of Sleepwell mattress comes with 7 to 10 years of warranty.

Price Range
Products

Mattresses, pillows, mattress protectors, and bedsheets

Mattress Thickness

The thickness of Kurlon mattresses ranges between 4 to 5 inches (10.16 cms to 12.7 cms)

The thickness of Sleepwell mattresses ranges from 4.5 to 8 inches (11.43 cms to 20.32 cms)

Buy Mattress Online
Kurlon can be the right pick for you if you are looking for affordable mattress options.
On the other hand, Sleepwell mattress prices are slightly higher.
What Is The Life Of A Kurlon Mattress?
Most mattresses last between 7 and 10 years.
However, certain factors influence their lifespan. 🤔
For instance, the material used, the mattress's thickness, the sleepers' weight, and their sleeping styles.
Apart from this, you can also prolong the life of your bed using high-quality toppers and durable covers.😆
Some of the long-lasting Kurlon mattress are Kurlon Snugly HD Foam Mattress, Kurlon Spinel Ortho Bonded Foam Mattress, Kurlon Plush Top Bonnell Spring & HD Foam Mattress
It provides extra coverage to the mattress, helping it stay in good condition for a long time.
Final Words
This was your complete guide to Kurlon mattress review to buy the best mattress.
Restfulness, comfort, and the correct posture during sleeping are the most suitable for the body and mind.
You can explore the mattress which suits your needs and notice the healthy changes it brings to your life.