Choosing the right duvet can do wonders for the quality of your sleep. 😴
So the time you invest in finding the perfect duvet for you is well worth it.
Before we go into the different factors to consider when choosing a duvet, you need to be aware of what type of sleeper you are.
If you're a warm sleeper, a lightweight duvet will keep you comfortable all night long. 🥵
If you're a low-maintenance sleeper who sometimes falls asleep on the couch, you're a regular sleeper and an all-season thermal duvet might be the ideal choice.
If you're a cold sleeper, you'll need an extra warm duvet to keep you comfortable and cosy all night.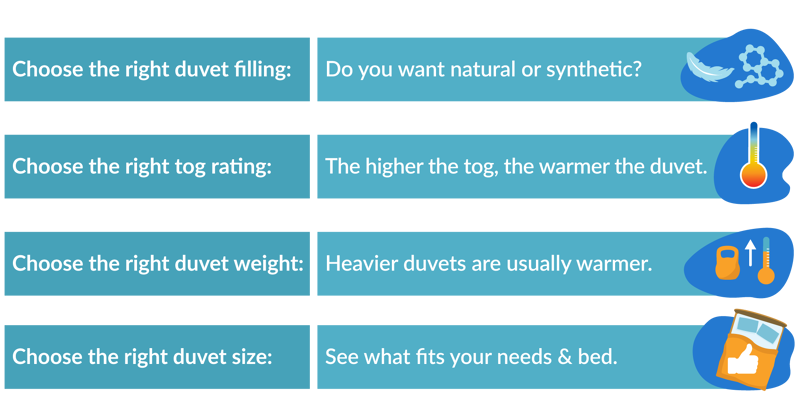 Here are some factors to consider when choosing the right and affordable duvet for a comfortable night's sleep. 👇
Considering the weight of your duvet
Have you ever spent a night in bed under a duvet that felt too heavy? 😓
An extra duvet can ease your anxiety, but it's not for everyone.
The weight of the duvet depends on how much filling is used.
The average weight of a duvet can range from 150 to 500 grams per m².
However, the weight depends very much on the type of filling used in your duvet.
Contrary to popular belief, heavier duvets aren't necessarily warmer than lighter ones.
This depends solely on whether the filling of your duvet is synthetic or natural. 🍃
Since synthetic duvets aren't as insulating, they need more filling and are comparatively heavier.
On the other hand, natural duvets offer a higher thermal insulation level with much less volume.
This means that synthetic duvets are usually heavier than natural duvets.
People with a petite build or restless sleepers prefer lightweight natural duvets.
However, there's no wrong or right choice when it comes to the weight of your duvet.
You should choose one that feels most comfortable for you.
If you're looking for a light, comfortable, and warm duvet, you can choose IKEA Safferot.
Choosing the right duvet filling
Duvets are made from a variety of materials.
These materials are divided into two main groups - natural duvets and synthetic duvets. 🍃

Which duvet you choose should depend on your comfort level and budget.
Natural filling
Traditional duvets usually contain natural fillings.
Cotton, sateen, duck down, or goose feathers are duvets' most common natural fillings.
A natural filling is a perfect choice if you're looking for organic and environmentally friendly materials. 🌍
Cotton duvets
Since cotton is a more affordable material, it's one of the most common fillings in natural duvets.
Duvets filled with organic or Egyptian cotton provide better thermal insulation and are lighter and antibacterial.
This makes the duvet suitable for people who suffer from dust allergies. 🤧
Organic cotton duvets effectively absorb moisture without becoming clammy or lumpy.
This means they offer better temperature regulation, making cotton duvets the perfect choice for hot or sweaty sleepers.
Strory@Home's cotton duvets are made from the finest cotton and are designed to be hard-wearing and durable.
These hypoallergenic duvets are better than a wool duvet, keeping you toasty in light winters.
Feather and down duvets
A feather and down comforter is made from materials that come from either ducks or geese. 🦆
These luxurious duvets are designed to retain heat well between the feathers without overheating the duvet.
Depending on your sleeping habits, you'll need to decide on the ratio of feathers to down.

If your duvet has more down than feathers, it'll be airier, lighter and squishier, making it perfect for restless and hot sleepers.
On the other hand, if your duvet has more feathers, it'll be slightly denser and heavier.
While these duvets offer great quality, they aren't vegan and aren't always made under humane conditions. 🤥
Another disadvantage of these duvets is that they shouldn't be washed at home as they take too long to dry.
Conveniently, the Three Geese feather duvet we recommend is machine washable at up to 25°C.
BUY THREE GEESE FEATHER DUVET₹19,146
Synthetic filling
Duvets with synthetic fillings are becoming increasingly popular due to their low price tag. 🏷️
The most common synthetic duvet materials include hollow fibre, polyester and microfibre.
The duvets made of synthetic fillings don't stick to dust particles and are hypoallergenic.
This makes them the right choice for people prone to allergies.
However, synthetic duvets are made of microplastics, which can have devastating effects on the environment.
They're also not as breathable and thermally insulating compared to natural duvets.
So you often need heavier synthetic duvets to get the same warmth.
Hollow fibre duvets
Hollow fibre duvets are very popular because of their lower price tag. 💵
Unlike natural duvets, they can be machine washed without any problems.
However, they don't last as long as natural duvets and the filling can easily clump.
A good-quality hollow fibre duvet can last up to five years if cared for properly.

The Divine Casa hollow fibre duvet is extremely soft and comfortable to use.
Microfibre duvets
Microfibre duvets are relatively new on the market and are a little expensive compared to hollow fibre duvets.
They're very similar to down duvets but much lighter and more affordable.

Microfibre duvets are the synthetic equivalent of down duvets and have extra-fine fibres that are soft, light and cosy. 🧶
Livpure Smart offers high-quality, hypoallergenic duvets that we highly recommend.