The Tempur Mattress Topper is a premium mattress topper by the esteemed Tempur brand made.
This high-quality topper by the Tempur brand adapts to your body for optimal support and comfort.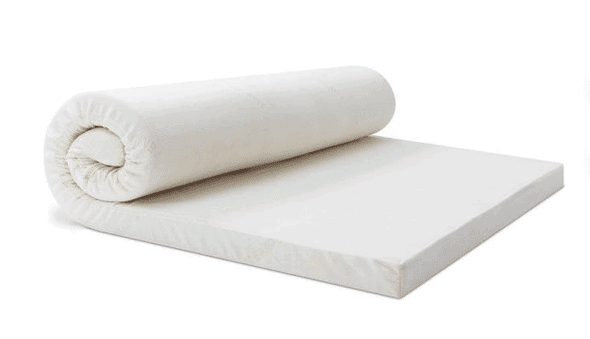 Tempur Mattress Topper
The Tempur mattress topper is a very high-quality topper made of Tempur-branded and NASA-certified memory foam.
It adapts well to your body to relieve pressure and support your spine.
The topper results in a warm, soft, and comfortable sleep.
The Tempur mattress topper is very expensive, though, so only consider this option if you have a high budget available.
What is a mattress topper?
A mattress topper is about 4 - 10 cm of extra padding that is placed over your mattress.
Some come fitted with bands to tie to your mattress to prevent slipping. However, not every brand provides this and typically, you are required to pull a sheet over the topper and the mattress, ensuring that the topper remains in place.
Various materials are used to create toppers, and each of them results in different sensations while lying down.
Generally, they offer a cushioning sensation and provide support.
Mattress toppers do not have defined degrees of firmness, and instead, it largely relies on the mattress you place it over.
A mattress topper is supposed to enhance the softness of a firm mattress.
Criteria for a mattress topper
Not every mattress topper is the same. The market has several great ones but many poor ones too.
If you are looking for a mattress topper, these are the key points you must consider:
Density
The density is the aggregate amount of material that went into its production.
The mattress topper's density is directly proportional to its quality and durability.
We recommend a density ranging between 40 - 50 kg/m³.
Your mattress topper thickness is also crucial: we recommend a thickness of 4cm.
Firmness
Although there is an absence of firmness in terms of toppers, the firmness or softness is still affected by its material.
Typically, the softest products are memory foam toppers, and the firmest ones are made from cold foam.
Always go for a product based on your personal needs and preferences.
Size
Your topper's size relies on the mattress size.
Your topper needs to fit your mattress perfectly. You'll need to measure its width, length, and height.
If you are using a large mattress topper on top of two single mattresses, there is a need to ensure that the topper perfectly covers both mattresses.
Hygiene
Hygiene is crucial.
So we recommend going for mattress toppers that have removable and machine-washable covers.
The majority of mattress toppers are large, and it makes it easier if they are machine washable. Although, it is possible to use a damp cloth and a detergent to clean them.
What does a mattress topper help with?
You will not be able to solve all of your sleeping issues with the purchase of a mattress topper.
However, that isn't to say they aren't worth the investment. Here are a few great reasons to get a topper:
Enjoy a softer feeling when lying down.
Are you regretting your mattress purchase decision because it is too soft? Don't worry if you wanted something firmer. A new mattress is not the only solution; instead, look for a mattress topper.
Mattress toppers created using visco-elastic memory foam, gel foam, or latex foam ensure optimal softness. On the other hand, those that are slightly firmer are often made up of cold foam.
A warmer sleeping climate
If you feel cold when you sleep, you can resolve this issue with a mattress topper.
Your sleeping temperature is increased with toppers created using memory foam and latex foam.
On the other hand, the temperature-neutral ones are cold foam and gel foam toppers.
A few mattress toppers exhibit cooling properties, ensuring a neutral climate. However, the mattress sleeping climate is not decreased.
Seamless transition between two single mattresses
If you've ever used two single mattresses on a double bed, then you'll know the problem of the gap between them.
A topper will eliminate this; by placing a large mattress topper over both mattresses.
If you are experiencing problems following this, then you may need to invest in a bed bridge.
When will a mattress topper not help me?
A mattress topper will not solve every problem you experience with your mattress and should not be purchased to improve an old or sagging mattress. Here are some things a topper cannot fix:
Suffering from back pain
A mattress topper will not help relieve back pain. Instead, its job is to enhance the comfort of your mattress.
If you have a misaligned spine that results in back pain, it is best to purchase a new orthopaedic mattress.
A slatted frame, in some cases, also causes back pain.
If your mattress slats are broken or damaged, it is best to stop using them and replace them.
If your bed is too soft
Your mattress cannot be made firmer using a mattress topper.
However, it can help make your mattress feel softer. This is because the material determines the exact degree of firmness.
Memory foam toppers are the softest, and cold foam are the firmest. However, a cold foam topper is not capable of making a soft mattress more firm.
If your mattress is too soft, you should think about purchasing a new, firmer mattress.
If your mattress is old, worn out, or sagging
You cannot use a mattress topper as a substitute for a new mattress.
If your mattress is old and starting to wear out, you need to think about replacing it.
A sagging mattress can misalign your body, placing too much pressure on your spine, resulting in back pain and problems sleeping.
A topper cannot fix this.
If you are too hot whilst asleep
You cannot make your bed colder with a mattress topper.
However, it can raise your sleeping temperature.
While Visco toppers and latex toppers are warm, cold foam, PUR foam, and gel foam toppers tend to be temperature-neutral.
What material is right for me?
The perfect mattress topper for you is determined by what materials and features you want from it. Each material has its benefits and strengths, which will appeal to specific customers.
Some of the best mattress toppers are made from memory foam toppers, cold foam toppers, latex toppers, and gel foam toppers.
| | |
| --- | --- |
| What I want | Mattress topper |
| Softer sleep | Memory foam or gel |
| Sleep warmer | Memory foam or cold foam |
| Muscle relax | Memory foam, gel or cold foam |
| Comfortable sleep | Gel or memory foam |
Memory foam toppers
Mattress toppers are trendy when made of visco-elastic memory foam.
They help create a soft and warm feeling, which perfectly align with the body to provide a body-hugging sensation. Memory foam also distributes weight evenly across its fabric to relieve tension and discomfort in sleep.
Memory foam tends to retain more heat, which is excellent for raising the sleeping temperature and will get you through a cold winter.
Cold foam topper
Cold foam mattress toppers are typically firmer and temperature-neutral, functioning as hypoallergenic.
Cold foam comes with an open-cell pore structure which is far more breathable than other topper materials.
This results in a more temperature neutral climate but will not reduce the temperature of your bed drastically.
The memory foam and cold foam toppers provide optimal body support.
However, the pressure distribution of memory foam toppers is better. Cold foam toppers dissipate excess heat and moisture better.
Gel foam toppers
This material is famous mainly for its pressure-relieving properties and temperature neutrality.
Gel foam quickly retains its original shape, and thus, restless sleepers can make the most of it, which makes this the better option when compared with memory foam.
The pressure-relieving properties are excellent with gel foam. In addition, the material is point-elastic and aligns very well with the body contours.
Since gel foam is open-pored, gel foam toppers are temperature neutral, creating a good sleeping climate.
Latex foam toppers
Latex foam toppers are soft and comfortable.
Like memory foam toppers, latex can store body heat well, perfect if you are cold at night.
These toppers have brilliant point-elasticity, stability, and durability.
This means that the weight is distributed evenly by the topper and your spine will remain healthily aligned.
Latex toppers aren't recommended for those who experience latex allergies. Even with a mattress cover over it, the risk of reaction is too high.
Alternative mattress topper materials
Apart from the topper materials mentioned above, there are a few others:
| | |
| --- | --- |
| Material | Feeling |
| Bamboo mattress topper | Heat is not retained, and hypoallergenic properties are demonstrated. |
| Cotton mattress topper | These toppers are very comfortable and adapt well to the temperature. |
| Water mattress topper | It is meant to relieve back problems. |
| Air mattress topper | While these also help decrease back problems, they are not as comfortable as water mattress toppers. |
| Heated mattress topper | With this, you can control the temperature. |
Why buy a mattress topper?
There are several reasons why a mattress topper is a good investment.
You can see an overview of a mattress topper's uses in the table below.
| | |
| --- | --- |
| A mattress topper can help with | A mattress topper cannot help with |
| Softer sleeping experience | An old mattress |
| Increasing your temperature | Making a soft mattress firm |
| Relaxing the muscles | Back pain cannot be eliminated |
| Removes mattress gap | Your temperature cannot be decreased |
Conclusion
Note that a mattress topper is not a mandatory purchase, and you can completely avoid it if you have purchased a high-quality mattress.
However, a good mattress topper does augment the mattress features and creates a softer, warmer, and more comfortable sleeping environment.
This holds true if you want a soft and warm feeling while sleeping but don't want to purchase a new mattress.
However, a mattress topper cannot fulfil the need for a new mattress.
In case your mattress is old, damaged, or sagging, you must invest in a new mattress.