How to find the perfect mattress
Finding a new mattress can be very daunting.
And you don't just want any mattress.
You want the perfect mattress.
We'll take you through a few quick steps that will help make the process of buying a mattress online much more straightforward.
Determine your budget
You can't decide what type of mattress you want to buy if you don't yet know how much you can afford to spend.
We would never recommend buying a cheap mattress.
After all, you spend a third of your life sleeping. Hence, it's essential to make the right decision - you do end up getting what you pay for.
But, this also doesn't mean that you have to spend a fortune.
We divide mattresses into three broad categories based on price (considering the cost of standard double beds).
Cheap mattresses (under ₹ 9500)
If your budget is low, you need to be particularly careful about the mattress you choose.
We recommend testing the mattress first, but keep in mind that cheap beds cannot compare to higher quality ones.
Most IKEA mattresses fall into this price range.
Average-priced mattresses (between ₹ 9500 and ₹ 17,000)
Most of the mattresses we recommend tend to fall within this range.
However, most of the super quality mattresses tend to fall into the upper-range of this price category.
Premium mattresses (over ₹ 17,000)
These are expensive, luxury mattresses, that offer unparalleled quality.
Understand your preferred sleeping position and body type
Most bed-in-a-box mattresses offer universal comfort and work well with the majority of sleeping positions and body types.
However, some mattresses are still better suited for some sleepers than for others.
For example, side sleepers would generally need a softer mattress that allows for more sinkage as the body essentially rests on the hips and shoulders.
If you're a back sleeper or stomach sleeper, then you can get away with a firmer model.
The majority of people believe that a firm mattress is better for your back.
But this isn't always true.
Conversely, if a mattress is too firm, it may result in back and neck pain since the body can't sink into the foams as required.
But it's also necessary to ensure that the mattress isn't too soft either, as this results in the hammock effect where your hips sink in excessively and cause your spine to bend.
Your body type and weight will also play a role in determining the appropriate degree of firmness.
People who are smaller and more light-weight (under 70 kg) tend to sleep more comfortably on a slightly softer mattress.
Heavier-weight people require more stability and support.
Here, a firmer mattress would work better.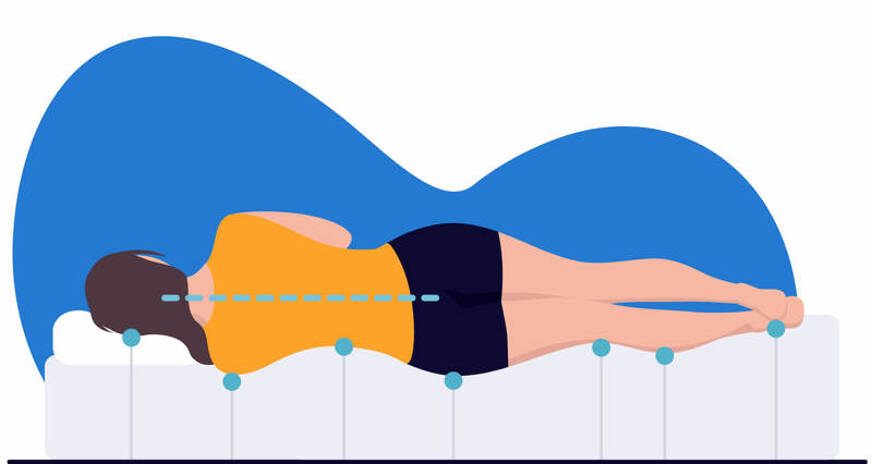 Select the right degree of firmness
Once you've considered your preferred sleeping position and body type, you can go ahead and select an appropriate degree of firmness.
We've created the Sleep Hero firmness scale to help you with this.
Generally, we'd recommend mattresses that fall into the 5 - 7 out of 10 range.
These are typically comfortable for the majority of people and suitable for most sleeping positions.
Often, desired firmness varies with personal preference and is essentially associated with the level of comfort you experience when lying down.

Select the right mattress size
Your situation will help determine the ideal mattress size.
Are you single?
Do you have a partner?
Do you have kids or pets?
How tall are you?
How big is your bedroom?
The answers to all of these questions will help guide you towards the appropriate mattress size.
In general, sleeping alone can be quite comfortable on a single or double mattress, while couples would be better off choosing a queen or king mattress.

Always test the mattress
While the above steps help you choose the perfect mattress, you still need to make sure it's the best mattress for you.
That's why the most crucial step involves testing if a specific mattress suits you.
Typically, it'll take you several weeks to get used to a new mattress. It certainly isn't enough to test a new mattress for a few minutes in a store.
When purchasing a mattress online, you can enjoy a set test phase.
Typically, this is 100 days, but the number varies with different brands.
We recommend making the most of these test periods to see if the mattress is right for you.
And if it isn't, then you can return it, free of charge, and get a full refund.
Enjoy your perfect mattress
And, that's it - you've found your perfect mattress.
We'll help you get there
But don't worry, we'll guide you every step of the way.
In our mattress reviews, you'll find a range of information pertaining to mattresses that can be bought online.
This includes:
Composition of the mattress
The mattress cover
Comfort
Firmness
The warmth of the mattress
Mattress accessories
Awards
Certifications
Sizes
Prices
Delivery conditions
Return policies
Test phases
Warranties
All of this will help you decide which mattress will be right for you.
So let's dive straight in and look at the Sleep Hero mattress reviews.