Our Favourite
Get relief from back pain and joint pain with this specially designed Dr Ortho mattress.
Dr Ortho mattress is suitable for all sleeping positions and comes in various sized to choose from.
For those who are suffering from both overnight and morning aches, Dr Ortho mattress could be the solution.
A properly-designed firm mattress can give good support to your sides and backs to prevent pain. 
We love its thickness, fabric, and pressure points for comfortable sleep. ❤️
It is available in four sizes, including queen size, double bed size, king size, and single bed size.
If there is elders in your home, then this mattress is perfect for their joint pains and sound sleep. 🙌
Its top fabric is made of cotton, which makes it best for people with any kind of allergies.
One thing that may affect your decision to buy this mattress is its price. It is a little expensive, but worth an investment.
Pros
| | |
| --- | --- |
| | It features an advanced air circulation |
| | It is a highly durable and firm mattress |
| | This mattress provides great comfort to every part of the body |
| | It is designed especially for people suffering from back pain or joint pain |
Cons
| | |
| --- | --- |
| | This mattress is a little expensive |
| | Dr Ortho's mattresses are heavy in weight |
What is inside a cold foam mattress?
There are various types of cold foam mattresses available.
A few of them are made of pure cold foam and don't have any other foam types.
Others combine a few different foam layers, such as memory foam, gel foam, or latex foam.
The zones of a cold foam mattress
A few cold foam mattresses are divided into comfort zones.
These zones help give the body the support it needs, aid comfort, and ease any tension on the back.
Separate zones correspond to and support different pressure spots.
Your body ought to be aligned throughout your sleep.
For this, you need to sink into the mattress deeper at some key areas and less at others.
This ensures maximum comfort and is especially important for side sleepers.
Mattresses usually have 3, 5, 7, or 9 comfort zones.
Zones are usually placed in the abdomen, back, skull, and foot areas.
The zone number will always be odd.
This is because of the mattress's mirror image structure, ensuring that your body is always supported perfectly, no matter how or in what position you lie in.
Should you choose a cold foam mattress?
Cold foam is suitable for most people, no matter their body size or sleeping position.
Cold foam mattresses are generally firmer mattresses.
That said, there are still different levels of firmness available, and you would have to choose the one you most prefer.
A good choice if you have back pain
People with back and neck complaints usually opt for cold foam as they come with inbuilt comfort zones.
Cold foam also has great point elasticity, which reduces pressure points and allows for restful sleep.
Great for couples
Cold foam mattresses are suitable for couples as they isolate motion well, meaning that movements won't travel through the bed.
This motion isolation ensures that your sleep remains disturbance-free.
A firmer choice
Cold foam mattresses are generally firmer, especially when compared to the bounce of spring mattresses.
If you're looking for a bouncy mattress, then cold foam is probably not for you.
What to look for in a cold foam mattress
When searching for a cold foam mattress, you need to keep in mind that not all cold foam mattresses are good.
There are some low-quality, uncomfortable options out there as well.
Consider the following.
1. Foam density
Density is a good indicator of quality.
The density of a mattress refers to the quantity of polyurethane that has been converted into foam to produce one cubic metre.
Generally, higher-density mattresses are of better quality.
Always look for a high-density polyurethane foam mattress.
You can use the below table as a rough guide.
| | |
| --- | --- |
| Density in kg/m³ | Expected lifespan |
| Up to 25 | Up to 2 years |
| 30 | Up to 3 years |
| 35 | 5 - 6 years |
| 40 | 6 - 8 years |
| 50 - 60 | 10 years and more |
2. Delivery options and return period
To enjoy a hassle-free purchase without risks, ascertain that the seller provides the following:
Free delivery.
No-strings-attached trial period.
Free returns.
A generally stipulated trial period for most brands is between 30 - 100 days, but some brands provide a more extended period.
It usually takes a few weeks for the body to adapt to a new mattress. So, you should have enough time to assess the bed.
An extended trial period helps you judge the mattress better.
If at any point during the trial period you feel that the mattress is not a good fit, you can return it free of charge for a full refund.
3. Mattress rebound rate
The mattress rebound rate refers to how fast the mattress returns to its initial form after being compressed.
The greater the rebound rate, the faster it'll return to its original shape.
The rebound rate is a good indicator of whether the mattress will fit heavyweight people and restless sleepers.
It also indicates whether the mattress is susceptible to dents.
You should always be able to move around freely on a mattress while receiving adequate support and stability.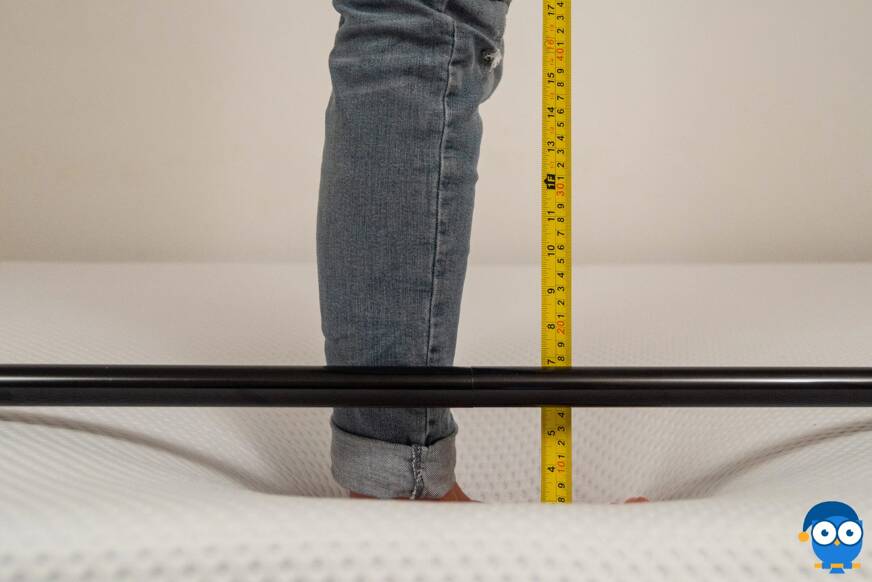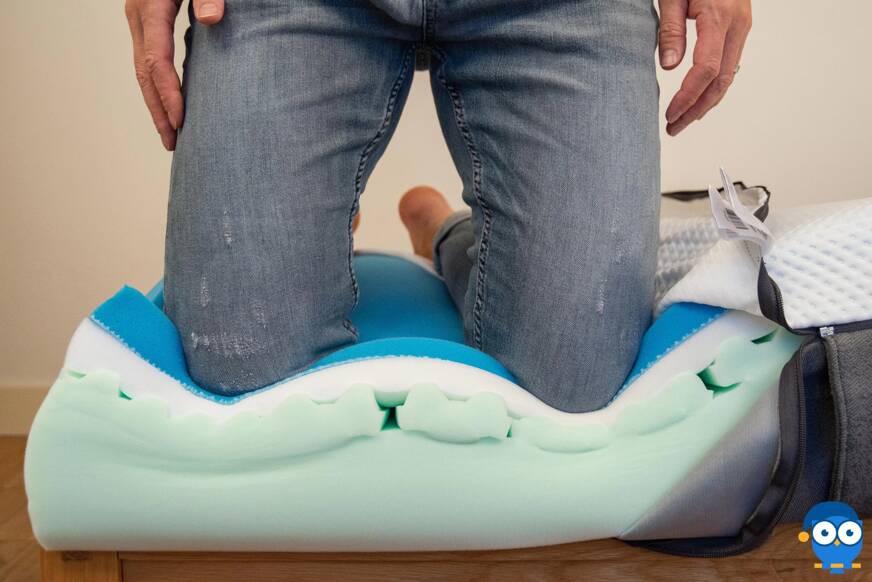 Selecting the appropriate cold foam mattress size
Selecting an appropriate size is an essential factor.
This factor varies according to your requirements, bed size, bedroom size, and whether you're sleeping alone or with a partner.
You can buy cold foam mattresses in every size, but custom sizes may only be available with some select brands.
The standard sizes in India include:
Single mattresses sized 72" x 36" (183 x 90 cm)
Double mattresses sized 72" x 48" (183 x 120 cm)
Queen mattresses sized 72" x 60" (183 x 150 cm)
King mattresses sized 72" x 72" (183 x 183 cm)
A single mattress is a preferred choice, especially for people sleeping alone.
Couples should choose a double mattress, ensuring both partners have enough space for a comfortable night's sleep.
Of course, couples can also choose larger mattresses for greater comfort.
You can refer to our mattress size guide for more information.

Finding the right bed frame
You should select the right slatted bed frame to enhance the benefits of your cold foam mattress.
Here are some factors to consider.
Consider zoning
We would advise that you buy a slatted frame with similar divisions as the comfort zones in your cold foam mattress.
For example, if you have a 7-zone cold foam mattress, you should also buy a 7-zone slatted frame.
Using a similar frame will increase comfort by helping your shoulders and abdomen sink in deeper, which keeps your body and spine in a straight alignment.
Slatted frames with adjustable height
Cold foam mattresses adapt very well, which is why we'd recommend choosing a slatted frame that's height-adjustable.
Not only do adjustable head and foot sections increase overall comfort and stability, but they also help with blood flow and breathing.
This is especially important for seniors.
While a height-adjustable frame is preferable, cold foam mattresses can also be placed on rigid slats.
Slat distance
Make sure that the space between slats does not exceed 5 cm.
What is off-gassing?
You may notice an initial chemical smell - off-gassing - when you purchase a new cold foam mattress.
Off-gassing is a fairly common phenomenon, completely harmless and non-toxic, caused due to the production process.
But you may find the smell a bit off-putting.
We would advise that you unpack your mattress in a room with ample ventilation and let it breathe.
The smell usually disappears quite quickly.
Alternatives to cold foam mattresses
Most mattresses have at least one layer of cold foam.
But if you don't find pure cold foam mattresses comfortable, you may consider one of the following options instead.
Memory foam mattresses
Memory, or viscoelastic, foam shares many features with cold foam mattresses, but its memory imprint further characterises it.
As we increase pressure on the mattress, it softens and lets the body sink in.
The mattress takes the shape of the body, making sure it adapts perfectly and maximising comfort.
Memory foam mattresses also have excellent pressure relief abilities, making them useful for orthopaedic purposes.
Despite the comfort, the memory effect can cause difficulty when changing your position while lying down.
This makes memory foam mattresses unsuitable for restless sleepers.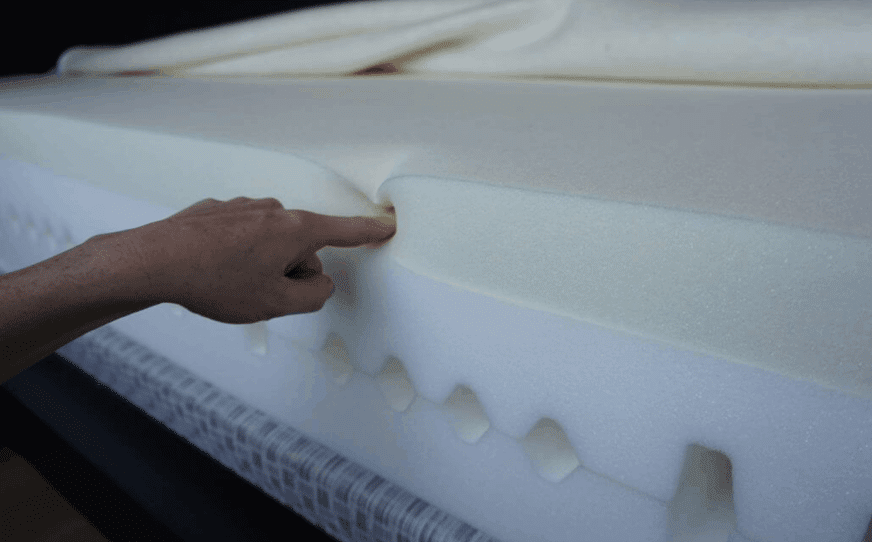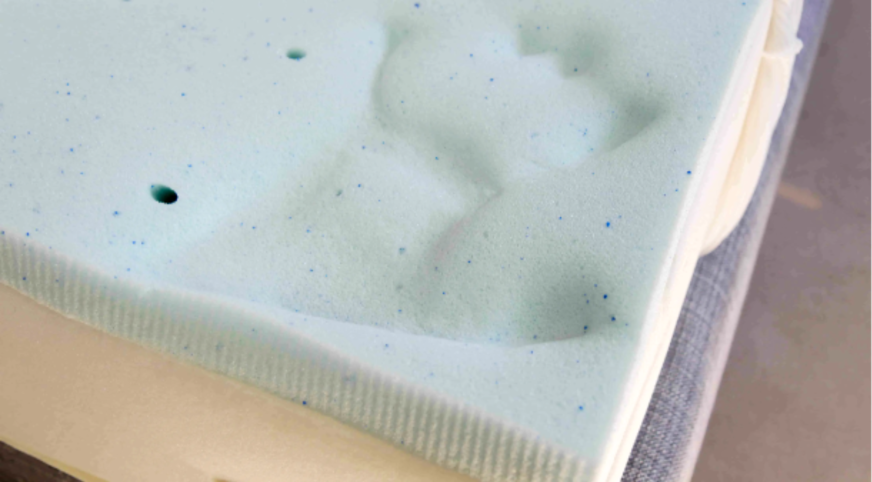 Innerspring mattresses
Do you prefer firmer mattresses? Then an innerspring mattress may be more suitable for you - they provide a more stable and supportive feel.
The base is made of coils or springs, which can hold separate loads, enabling the mattress to adjust much better to the body and relieving pressure points.
Innerspring mattresses are also naturally ventilated as the spacing between the springs provides room for breathability.
Greater airflow allows for a cooler sleep.
Quality is critical in a spring mattress.
Low-quality spring mattresses tend to wear out quickly and form dents. This can cause - or worsen - back pain.
Higher-quality spring mattresses include pocket spring mattresses and barrel pocket spring mattresses.
Hybrid mattresses, which consist of springs and quality foam, are a good option as well.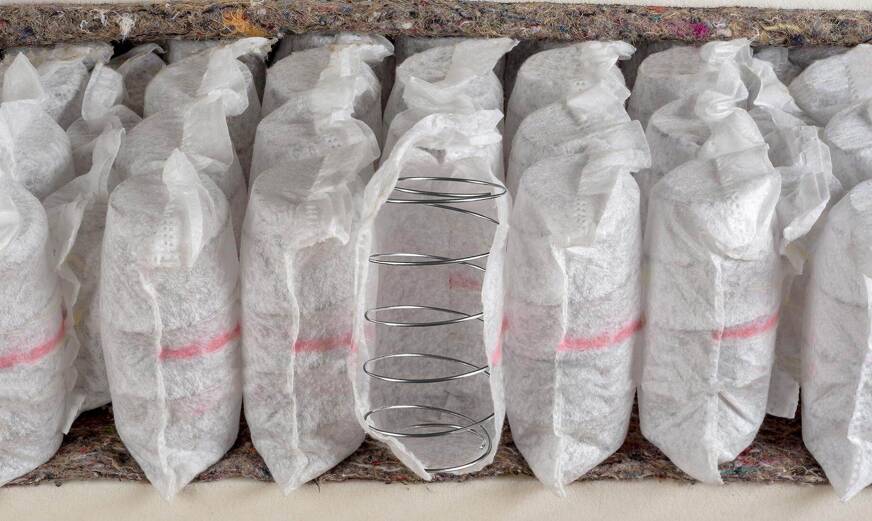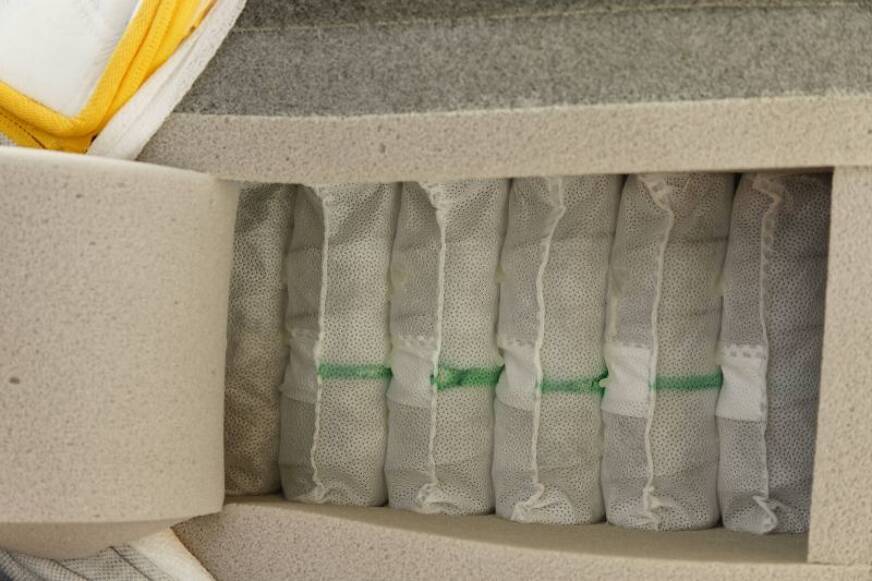 Latex mattresses
Restless sleepers and those who like a cooler sleep can explore the latex mattress option.
They come with great features like flexibility, ventilation, and superior comfort.
Natural latex mattresses are also an organic option, making them a good match for people who prefer organic and environmentally-friendly products.
The only downside to latex mattresses is that they are heavy, more expensive, and require regular cleaning.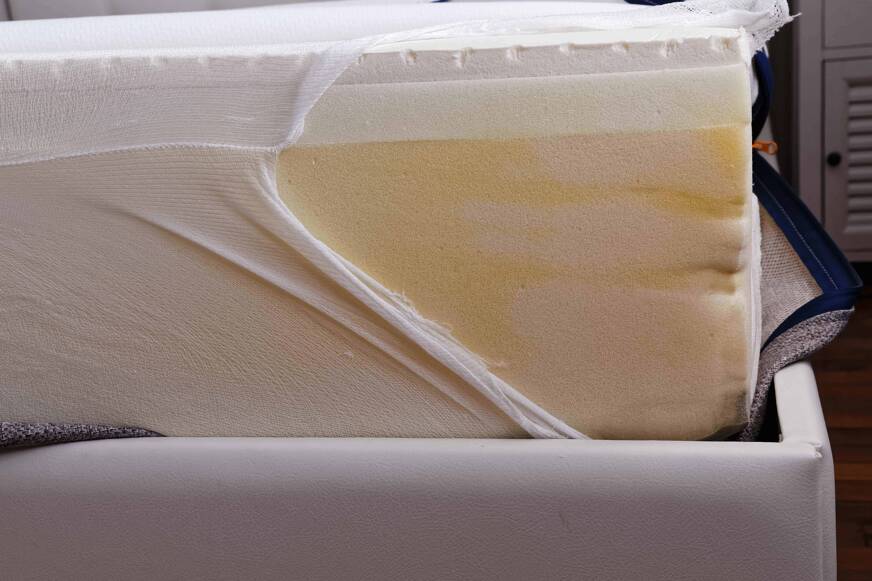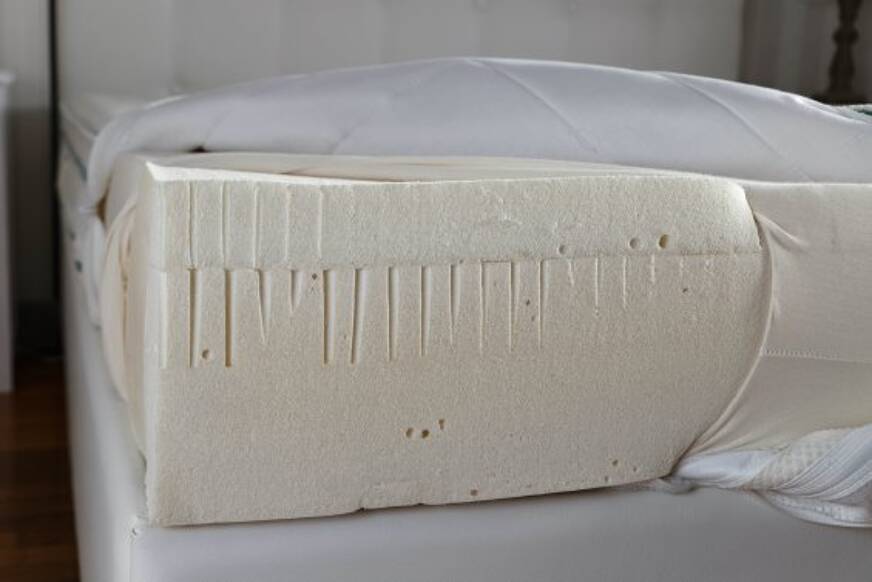 Gel foam mattresses
Gel foam mattresses offer good ventilation, comfort, and flexibility.
Gel foam is known for its snuggly feel and is common as the first comfort layer in mattresses that combine various foam layers.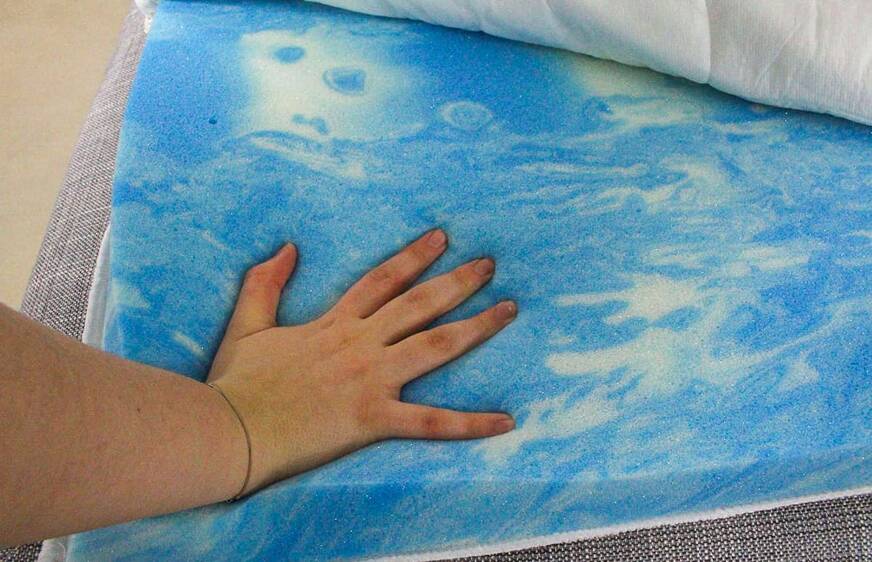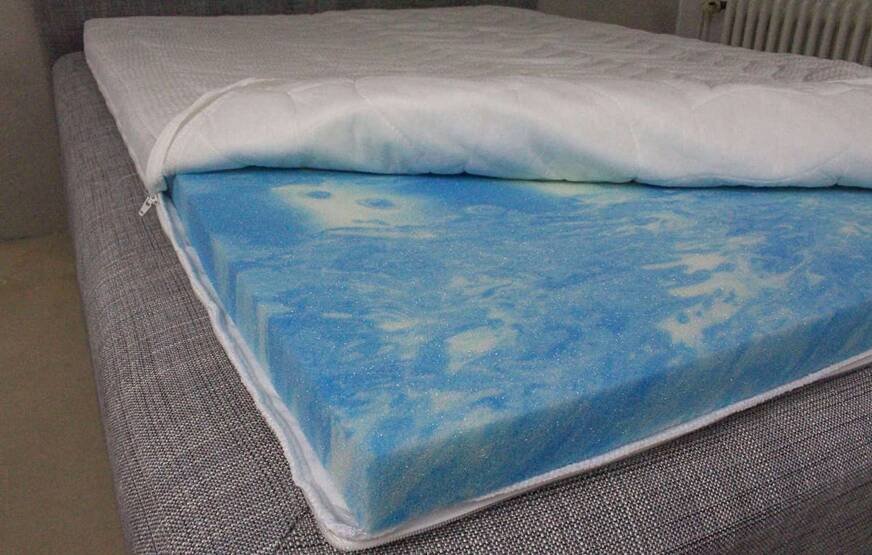 Conclusion
Cold foam is mainly used as the critical base layer, together with other materials, to make up a mattress.
It provides all-round stability and support.
You can also find numerous cold foam mattress toppers, which add stability.
But there are a few pure cold foam mattresses available too.
At times, cold foam is zoned to provide maximal vertebral support, which allows the body to relax fully and eliminates back pain.
People who struggle with back pain should opt for zoned cold foam mattresses, which will give them an optimum sleeping experience.